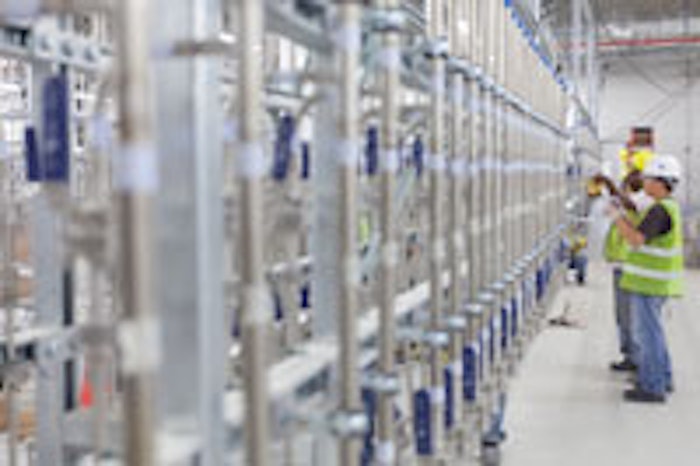 During the recent International Federation of Essential Oils and Aroma Trades meeting in Singapore (coverage coming in the January issue), P&F had an opportunity to visit IFF's new liquid flavors and fragrance manufacturing plant in Jurong.
Citing accelerating growth, company representatives explained the importance of boosting resources and capacity. According to IFF, the new site, part of a previously announced $100 million investment in Greater Asia, "reflects our continued confidence in our growth outlook of the region as well as our long-term commitment to this very important emerging market."
Increased Capacity, Low Inventory
IFF recently opened flavor sites in Delhi, India, and Beijing; a flavor and fragrance site in Dubai, United Arab Emirates; and is constructing a flavor facility in Guangzhou, China. Designed by IFF's global engineering group, the Jurong site is three times the size of the previous Singapore facility, totaling 12,000-sq-m with a capacity of 20,000 metric tons. It serves more than 250 customers in 19 countries.
Despite its growth versus the previous facility, the new site has a relatively small footprint, which demands that the company keep a minimum of work-in-progress inventory. Few compounded items sit on the shelf longer than a few days before being shipped to customers. The site also features a clean-in-place system that uses half the water and cleaning chemicals per ton of manufacturing, compared to the previous facility.
Market Potential
"Greater Asia presents one of the highest potential growth areas in the world," noted IFF. "There is an increase in disposable income across the region and our customers are here to supply this rising middle class with the goods and services it needs and desires. There is extensive growth in all product categories on both sides of the business as consumers across the region are in an improved financial position, allowing them access to the products they aspire to. For fragrances, this includes fine and functional fragrances, and for flavors, this includes the beverage, savory and sweet categories."
During the visit, the company emphasized the need to be at the right place at the right time, to be able to deliver on time with consistency of product and to have the ability to scale up. To that end, Singapore affords the company a supply chain that is cost-efficient, fast and high-quality.
Double-digit Growth for Flavors
IFF's flavor segment experienced 6% local currency sales growth in the third quarter of 2012 (9% like-for-like, excluding exit of low-margin sales activities). All categories and regions shared in this growth, driven by new wins and, of course, emerging markets. Among the emerging markets—which have a growing middle class that demands convenience, quality, and regional and local flavor profiles—growth totaled 10% in the third quarter of 2012. Health and wellness solutions—the reduction of sodium, sugar, fat and MSG in foods and beverages—is a crucial trend in developed markets. While this is a concern in emerging markets, the real focus is on high-impact flavors.
"All taste is local," IFF explains. "We understand this deeply and have knowledgeable people on the ground everywhere we do business who are charged with understanding what drives consumer liking and preference and how to link this with our customers' brands. It's one thing to know that mango is popular— it's entirely another to understand how differently a mango flavor is interpreted from country to country. Some prefer a sweeter profile, others, a profile with more sulfur. It's a fascinating business."
New Wins, Key Categories Boost Fragrances
Fragrance division revenue decreased 1% to $368.3 million in the third quarter of 2012 (third quarter, 2011: $373.2 million). Sales of fragrance compounds, which includes fine and beauty care and functional fragrance, increased 9% in local currency in the third quarter of 2012. Sales of fragrance ingredients declined 12% in local currency in the third quarter of 2012 due to continued volume declines in commodity products. Personal wash products, which according to IFF are experiencing growth, are popular in emerging markets. The new Jurong facility works closely with the Singapore creative center, which is a key center of excellence for the personal wash category.
"We are seeing the influence of travel—more people are traveling with more disposable income, having access to new brands, creating additional demand, especially travelers from Asia and Latin America," IFF says.
Elsewhere in emerging markets, a desire for prestige brands is leading to increased fragrance consumption in the Middle East. "The consumer is more educated, more demanding and looking for products to provide an experience that is emotionally impactful, entertains and amuses as well as smells great and communicates the way they want to be perceived," the company notes. "Consumers are looking for more than functionality in the home care and fabric care categories. They also want the element of sensorial stimulation. The use of technology—for example microencapsulation—provides an opportunity to deliver fragrance on demand in the fabric category, which is a perfume for many consumers in emerging markets."
At the same time, IFF is focused on the unique demands of emerging market consumers. For instance, such consumers seek smaller product sizes and lower price points. These consumers are also increasingly urbanized, which will reshape the types of products being sought. Here, the company sees opportunities for "innovative local players" in delivering unique products to emerging markets. Finally, consumers here are also increasingly aware of the sustainability of products on the market.