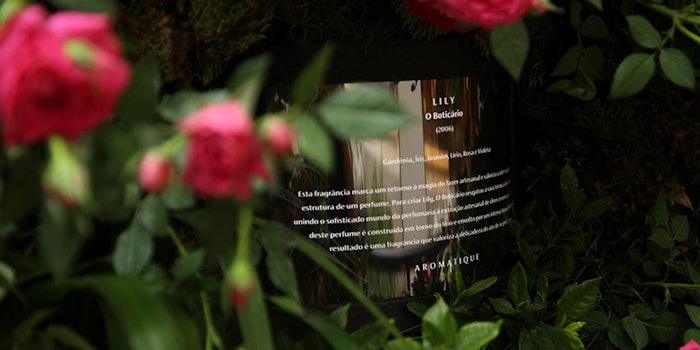 Images courtesy of Renata Ashcar.
The culture and history of Brazilian fragrance are highlighted in Renata Ashcar's Brasilessencia: The Culture of Perfume. Recently edited and reissued after its first publication 15 years ago, the book is a reference work in the fragrance industry. Ashcar covers the art and techniques of perfumery, its journey from Egypt through Antiquity and its more recent history within Brazil's borders.
Ashcar's recent work also reached the Iguatemi Sao Paulo Mall in Brazil for its 50th anniversary. The Mall was was filled with lush florals with 20 iconic fragrances from around the world in her exhibit, "Aromatique—Alchemy of the Senses," running from August 31 to September 25, 2016, and took inspiration from the nostalgia that fragrance induces and the relationship between fragrance and nature.
Visitors walked out of the olfactive exhibition having experienced perfumes such as J'Adore, Opium, Malbec, CK One and L'Eau d'Issey in a multi-sensory form, with timed sprinklers and visuals of the popular scents to add to the experience. The fragrances' history and cultural influence were also displayed in additional panels.