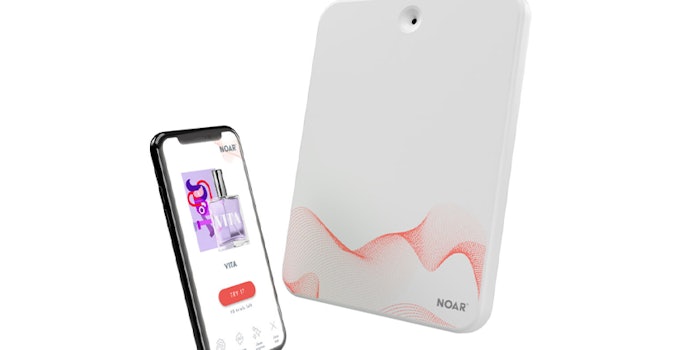 The Brazilian scent tech start-up Noar has announced it will internationally launch its digital scent diffusion device, MultiScent20, with Orlandi.

Previously: Brazilian Start-up, Noar, Gains Natura As First Customer
This new technology was internationally patented by Noar and enables consumers to experience perfumes controlled from their mobile devices through a portfolio of digital scent products. It is possible to sample up to 20 different fragrances. The device works with a recyclable cartridge system, each of which can deliver a minimum of 100 trials. 
Noar's scent diffusion technology will be internationally introduced outside of Brazil by Orlandi, a global leader in fragrance and cosmetic sampling, as well contract packaging and digital direct to consumer marketing solutions.
Sven Dobler, president and CEO at Orlandi said, "We are very excited to represent Noar and the amazing new MultiScent20 digital scent diffusion technology. We see these technologies expanding the reach of perfume to more consumers and in wider and new channels of communications, not just for direct selling but also in self-serve or "no touch" situations, in traditional retail outlets, and integrated into displays."
Cláudia Galvão, the start up founder and CEO of Noar said, "Relying on a partner we already know and with which we have an excellent commercial relationship is very important. Being represented by Orlandi will be an amazing opportunity to offer the digital scent technology to other markets and an entire array of new clients."