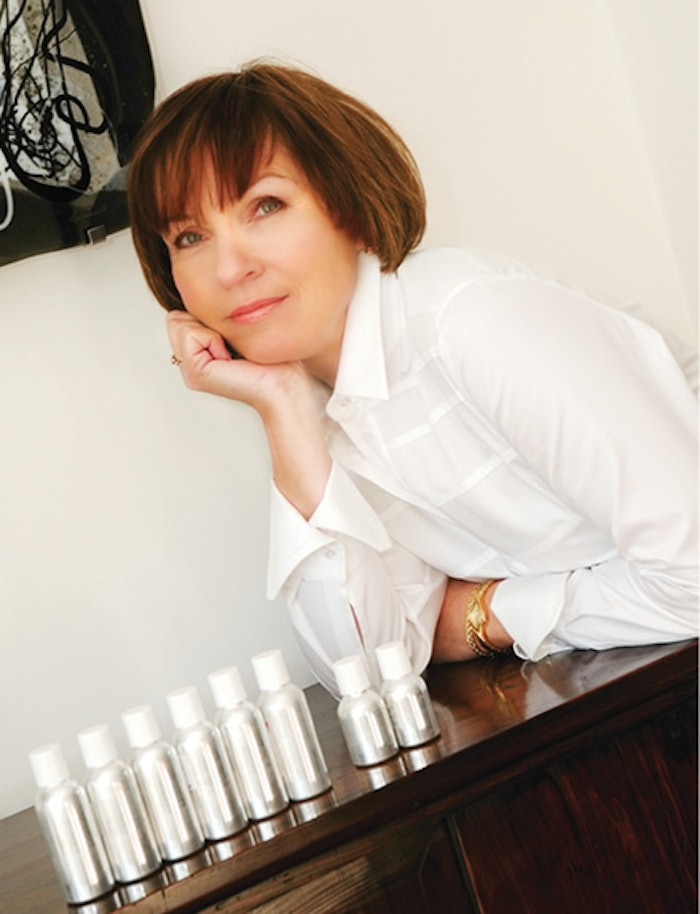 In January of 1979 the young Ruth Mastenbroek woke up to her first week of formal perfumery training in Holland to find that it had snowed overnight. This wouldn't have been a problem, only she didn't have winter boots. Determined not to miss her first day, she wrapped plastic bags over her court shoes and shuffled off to Naarden International.
That determination to understand perfumery and learn its secrets started at an evening class in South London Polytechnic taught by David Williams. Ruth had just landed her first job after finishing her chemistry degree in Oxford University. While entering the graduate trainee scheme in Selfridges to work as the assistant manager of the perfumery department of this prestigious London department store had been a great start, Ruth saw the opportunity to combine her growing interest in perfume, her chemistry degree and her need for creative flair in one, tantalizing potential career.
"That evening class became legendary in the industry," Ruth reminisced, "I've since come across several perfumers who attended the course and it opened our eyes to what was really behind all the perfumes."
Getting from the evening course to having a foot in the door took some effort, despite her relevant experience—Ruth wrote letters to every perfume company she could think of and finally landed a trainee job at Universal Oil Products (UOP) in Surrey, which was almost immediately taken over by Naarden International. They insisted that Ruth be trained properly and that's how she ended up in Holland on a snowy morning with plastic bags over her shoes.
A Charmed Beginning
Ruth's childhood was carefree and charmed: "I was born in London but brought up in America where we had a house in the woods. I had an outdoor life and was a creative child — I wrote stories and put on plays with my sister. I think that allowed me to develop and grow into myself freely."
Perfume wasn't a big part of Ruth's childhood. "I don't remember being aware of any perfume apart from Youth Dew which my mother wore." Her father was a metallurgist who had studied metallurgy in Cambridge and this sparked an interest in sciences. "Going to study chemistry in Oxford really felt like achieving a dream, but I soon realized I didn't want to go into research or become a teacher. Discovering the perfume evening class while at Selfridges was a total accident, but that's what inspired me to train as a perfumer."
Ruth was in her element: "The wonderful thing for me about perfumery was the ability to express my creative side while using my chemical knowledge. And that knowledge came in handy when I had to memorize a couple of thousand ingredients–in Dutch! It was the making of me because I had to translate everything and by doing that everything was fixed into my mind."
Discovering the perfume industry felt like a revelation to Ruth: "People are much more aware of what we do these days — it's more talked about in the media and so on — but when I started the industry was really hidden."
Ruth was still a junior perfumer when she scored Naarden's biggest win to date — their first tonne sale of fragrance compound; an eau de cologne-type fragrance for a detergent powder in Iraq. That caught the attention of her bosses who promptly shipped her off to Grasse for further training.
A Different Culture
It was 1983 and Ruth arrived to a hothouse of competitive male-dominated creativity: "The idea was for me to learn more about fine fragrance and it was an amazing opportunity to work alongside people like Gerard Anthony, Olivier Cresp and Jacques Cavallier. Let's be clear, though, while they were all individually wonderful, it was quite a culture shock to go into what was really still a very chauvinistic French culture. Typically the women were compounders and the men were perfumers."
Gerard Anthony was in charge and with famous fragrances like Azzaro Pour Homme under his belt, the competition was fierce from the young bucks. Ruth absorbed everything she could from her environment and was particularly impressed by what one could learn by using the nose to complement GC-MS analytical techniques. "I began to understand what is possible in fine fragrance — it was exciting to carry what you've learned through to my own work and learn about new ways of combining ingredients." In some ways being exposed to established formulas is to a young perfumer what copying the masters is to an art student.
"In fact, come to think of it, since I've set up my own business 13 years ago I haven't really had much use for such techniques and have been much more reliant on experience, imagination — and my nose!"
As soon as Ruth returned to Holland, her husband had a surprise for her. He was working for Polygram and they were launching a newfangled technology called the CD. A place on a training programme had become available... in Japan.
"I have to say I was not thrilled. I thought — wait a minute, my career is just taking off here, what do we do now?" Happily it turned out that not only did Naarden have a unit in Yokohama, they were also very accommodating and accepted Ruth's request for a transfer.
A Complex Arrangement
Life never goes to plan and there was an extra surprise for Ruth in store — just before her transfer she found out she was pregnant. "It was quite awkward — I had only just requested a transfer and then a few weeks later I had to go back to them and say that yes, I still want to go to Japan, but I am also now pregnant. They were really good about it."
Ruth had no idea what to expect of her new life — working in Japan or becoming a mother. "The work environment in Japan was very supportive, which was a sign of what a progressive company Naarden was because the culture in Japan was still quite conservative then and women were playing very much a secondary role in the workplace."
It was 1984. The Japanese appreciated subtlety, complexity and quiet power in their fragrances which were qualities Ruth was yet to learn. "I had to get to grips with these demands fast and that really steepened my learning curve. I had to understand how to add complexity while keeping the structure simple; how to find support for each of the notes all the way along the fragrance's development. And it's at this time I started studying ikebana, the Japanese art of flower arranging. In ikebana you have three basic positions for branches, flowers and leaves and the rest is created through space and harmony. You are supposed to create something with impact; something that evokes a feeling. So I tried to achieve the same in scent."
Learning how to give fragrances enough well-considered space and to create scents which the wearer could interpret were Ruth's main discoveries in Japan. "I feel like I found my own way of working there."
The fragrance market was rapidly expanding and it became more expensive and therefore riskier to launch new products. "This was also the time when ingredients like Galaxolide, Hedione and Iso E Super were becoming really important because the market showed that people loved fragrances with these ingredients. It became almost compulsory to have those in your scents for them to be acceptable to consumers." Market research was beginning to dominate creative direction: "The market dictated which fragrances had been proven to sell well and it would have seemed crazy not to follow that."
The seeds of creative freedom were sown.
A New Flame
Ruth and her husband returned to Holland to start their family and after a few years' break from perfumery, they moved to England and Ruth started working for a small company in Thatcham. "It was a huge culture shock to go from a big company with other perfumers who you'd compete with; an R&D department, applications lab — all that support — to a small operation where I was the only perfumer and had to do everything. I had to learn a lot very quickly."
It was the early '90s and the British candle market was getting more sophisticated. "I began doing candle fragrances and it was a wonderful way to use lots of ingredients that were getting more and more regulated."
Ruth created the grapefruit candle scent for Jo Malone and worked on another fragrance for them until the Estée Lauder takeover resulted in moving the fragrance business to the hands of a larger supplier. "That sort of thing was getting to be a problem with the company anyway and so eventually I left to set up my own business."
In 2003 Ruth launched Fragosmic Ltd. "It was another new adventure because instead of being handed briefs to work on, I really didn't know what was going to happen next. However, I was lucky enough to have some clients straight away and most of the work was coming to me through referrals, so I didn't have to do too much hunting."
Tony Dallimore, now the managing director of Phoenix Fragrances, was a perfumer at Naarden when Ruth joined as a trainee. "What he doesn't know about fragrances isn't worth knowing. He is the font of perfumery knowledge," said Ruth. "Setting up my own business was the perfect opportunity to collaborate with Tony and Phoenix."
Most of the early work was very similar to the kind of perfumery Ruth had grown so experienced in — except that this time she would meet the clients, go through the brief and show the work as well as create the fragrances. "Clients want an expression of their business and their ideas in fragrance. I work on fine fragrances, toiletries, candles and diffusers. It's been great to find out what I enjoy doing the most and then being able to choose to do that."
A Signature Range
In 2007, Ruth began work on an accord that would eventually become the first fragrance in her own brand of scents. "I felt that I had at least one fragrance in me that I really wanted to share. I've always loved chypres but no clients were asking for them. I kept thinking that there must be others like me who want to have a chypre with a modern feel."
"I didn't make it easy for myself and decided to offer a complete range of not just an eau de toilette, but also candles, diffusers and bath products." This led to a nearly three-year run-around dealing with suppliers and logistics, but in January of 2010, Ruth was standing next to a handsome display of her first own-brand products at a leading London trade show, hoping for interest. Despite having had a crisis where most of her packaging arrived damaged from China, her show went fantastically well, resulting in her first retailer contact, which was quickly followed by successful pitches to Fenwicks of Bond Street and the niche perfumery chain, Les Senteurs.
Starting a "niche" brand at a time when the market was exploding with them was both good and bad. On one hand there were many specialist retailers interested in the concept and many consumers eager to explore outside the blockbuster scent territory, but on the other hand, getting your brand noticed in a very crowded marketplace was a challenge and continues to be one. Ruth's classic and refined style is a surprise to some customers who expect a 'niche' brand to be provocative. "I definitely need to find ways to differentiate myself more — I'm so aligned with classic perfumery."
Two fragrances have joined the range since RM Signature: Amorosa, an aquatic fruity-floral, and Oxford, a woody oriental. Ruth is currently working on six projects and has set up a part of her house as a lab with raw materials and testing facilities. "In the morning I tumble downstairs and mostly use my kitchen table for creative space. The office is where I keep my books, archives and formulas. The lab has all the hotplates and the ingredients are kept lovely and cool there — so it works out rather perfectly."
"I do hope it doesn't come across as arrogant, but I do really realize how lucky I am," said Ruth of her life. It's been a charmed life but hard work, too, and recognizing one's luck is the opposite of arrogance.