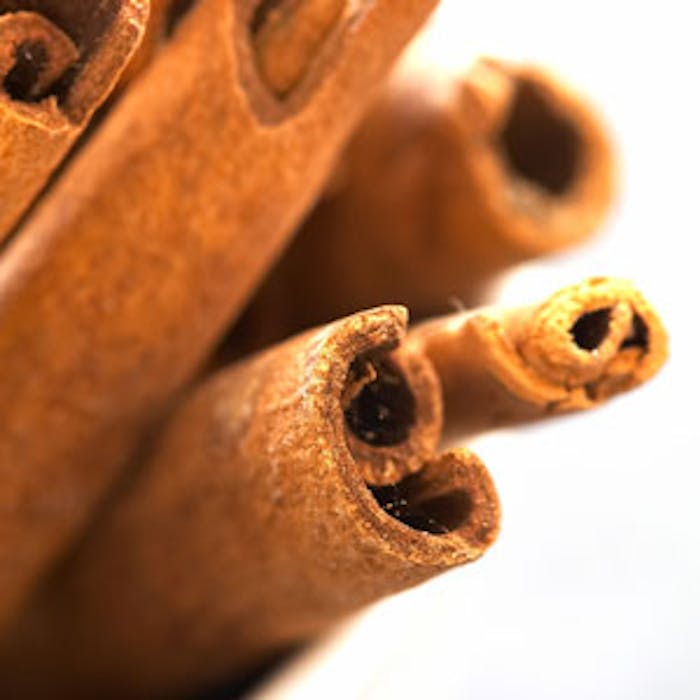 There's a cinnamon epidemic. It's in our food, candles, clothes, cars and more—not that that's a bad thing. What is bad, according to these inventors, is its allergic potential, which is why they invented a new cinnamon-like fragrance composition.
Cinnamon fragrance composition
U.S. Patent Application 20160032217
Publication date: Feb. 4, 2016
Inventor: Symrise
According to the inventor, cinnamon scent is widely used in the perfume industry. Besides the essential oil itself, cinnamic aldehyde, cinnamic alcohol as well as cinnamic nitrile are the most-used smelling compounds for the cinnamon note. However, they are well-known human allergens, and are currently monitored.
The objective of this invention was therefore to propose new cinnamon-smelling compounds that have little or no allergenic properties, and whose blooming properties increase in combination with perfumery grade solvents.
Disclosed is a fragrance composition including: a) at least one fragrance compound selected from 3,4 dimethylbenzonitrile; 4-(2-methylpropyl)benzonitrile; 3-methylbenzonitrile; 2-methoxybenzonitrile; 3,4-methylenedioxybenzontrile; 3,4-dimethoxybenzontrile; 4-methoxybenzonitrile and their mixtures; and b) at least one solvent selected from benzylalcohol, benzylbenzoate, diethylphthalate, dipropylene glycol, ethyl alcohol, iso-propyl myristate, triethylcitrate, downol DPM, IsoPar L, triacetine and their mixtures.
Surprisingly, this combination was found to exhibit a strong cinnamon-like smell.