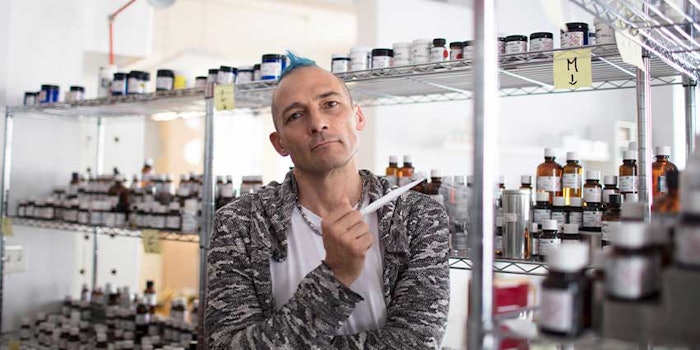 The new website ScentCulture.Tube focuses on the creative practices of international perfumer Christophe Laudamiel, partners and clients.
With funding from The Swiss National Science Foundation, a team of researchers, led by Prof. Dr. Claus Noppeney, followed master perfumer Christophe Laudamiel and other perfumers from 2010 onwards.
Following an ethnographic approach, the team shadowed daily activities, routines and informal conversations. They witnessed how perfumers and other design professionals struggle with challenges, cope with constraints, work across disciplinary boundaries and make sense of their creations.
For the first time ever, a research team was able to follow perfumers and their interaction with clients, designers and other professionals with a camera and ethnographic research methods.
ScentCulture.Tube communicates insights from eight years of studying organizing creativity in perfumery at Bern University of Applied Sciences.
ScentCulture.Tube offers an incisive look at a research project that reveals the secrets of creative practice in perfumery. What started with curiosity about organizing design processes led to an unprecedented study of the world of perfumery.
"The backstage of perfumery is filmed and explained unfiltered, as if you were there: A fantastic resource for curious minds, connoisseurs, students... and just for fun" said Christophe Laudamiel.
ScentCulture.tube provides access to ethnographic data generated at Christophe Laudamiel's studios in Berlin and New York during this longitudinal study.
27 unique videos capture Christophe Laudamiel's creative practice. The videos are part of a data set of 300 hours of film footage. Each video is framed by a story and invites the user to comment and discuss.
200 snapshots and other images offer additional insights from the field. Key quotations expand learning opportunities by pointing to related research. Visitors approach the website as a kaleidoscope: Each click on one of the 42 tags reorders the elements, tells new stories and opens up new views on creatives practices.
"Following perfumer's daily practices, we can better understand the challenges of organizing creativity in an increasingly experiential economy" Prof. Dr. Claus Noppeney added.
The videos tell different stories from the perfumer's studio: step by step, they shed light on different stages of the creative process.
The videos zoom into various situations of decision making and convey an idea of their overall complexity.
Wet Dog: Chasing the Villain portrays perfumers as detectives.
The story starts with Christophe detecting a malodor in an advanced modification. What follows is a passionate search for its causes.
It is important to bear in mind that the film footage was originally produced for research purposes and later selected because of this communicative value.
The Naïve Child captures key elements of Christophe's creative practice. In a narrative interview with the researcher, Christophe reflects on how he approaches even well-known ingredients.
Christophe Laudamiel commented that it "was humongous work for Claus to first convince the SNF to fund such project in an area very little formally analyzed in Business Schools. Then, to do this work and write the scientific papers about it, he interviewed also 100 people or so in the industry."  
Laudamiel continued: "I'm really happy that such work is achieved to bring more attention and credibility to perfumery for the outside world—in business, in creative studies (with implications in fashion, architecture, movie direction, egaming, etc.) and for the public to see the real complexity of our work."