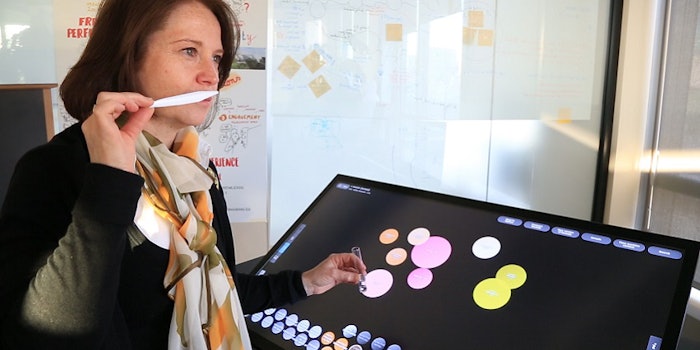 Givaudan Fragrances has launched its A.I. powered scent creation tool Carto, as part of its 2020 digital innovation strategy.
"The system allows [perfumers] to bring together physicochemical science and technology to maximize the use of our palette of ingredients while making experimentation simpler and fun," said Maurizio Volpi, president of Givaudan's fragrance division. "It brings to life their ideas, inspirations, and creative concepts in a very efficient way while taking away the repetitive tasks. The role of the perfumer remains at the center of creation, Carto comes as the digital support they can use to enhance their creative work."
Related: Givaudan Opens Digital Factory in Paris
Utilizing a wide touch screen, perfumers can create their formulas through interacting with Givaudan's Odour Value Map, as opposed to traditional spreadsheets or olfactive pyramid representations. Following the creation of the scent with Carto, the system will create a sample of the fragrance. Currently, the device is being deployed at the company's fragrance creative centers and are being integrated into their scent creation processes.
Commenting on its creation, Calice Becker, perfumer and director of the Givaudan Perfumery School said: "I have been part of this exciting project since the beginning, and I have been able to help shape this tool that I believe contributes to the future of perfumery. It is a true complementary support to our work, it allows us to experiment much more than we can today, to dose our formulas in the most performant way, and we, perfumers, bring the creative touch, the one most important part that can't be replaced by any system."