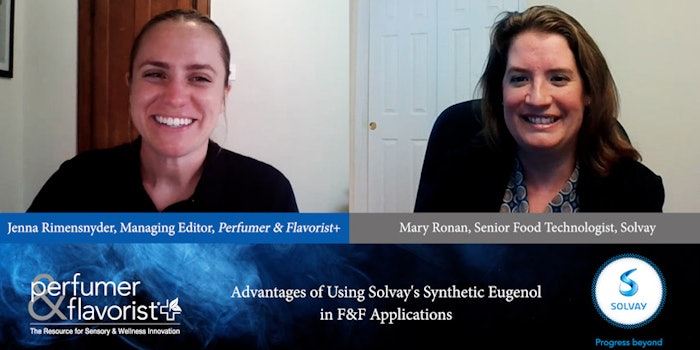 In this videocast, Perfumer & Flavorist's managing editor, Jenna Rimensnyder, connects with senior food technologist, Mary Ronan, to discuss the advantages of utilizing Solvay's Synthetic Eugenol in both flavor and fragrance applications.
The two discuss the need for synthetic eugenol, possible applications, cost benefits and much more.
Mary Ronan, Senior Food Technologist, Solvay
Mary Ronan is in charge of America's Vanill' Expert Center (VEC) in Princeton, New Jersey. She has worked for Solvay for 14 years in the R&I function and has developed innovative products to support customers with formulation development. As an application chemist, she started her career in the Home and Personal care market and supported the re-launch of the VEC Laboratory in 2019 with a focus on natural solutions for the food and fragrance industries.
Please enjoy!