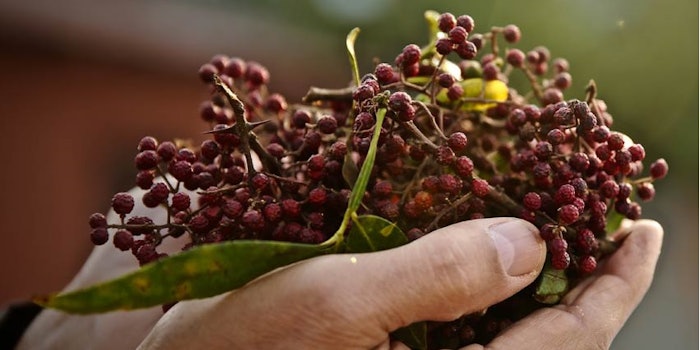 New extraction processes paired with innovative botanical research is what keeps Mane moving forward in the world of naturals. We sit down with Mane's team to discuss how sustainability, biotechnology and consumer insights play a role in the company's pursuit of natural in flavors and fragrances.
 
Perfumer & Flavorist: Naturals will always be on trend in F&F formulations. What are a few innovations Mane is working on in the world of naturals?
Mane: To keep innovating in the world of naturals, Mane focuses its research on new botanicals and on new extraction processes to reinvent iconic naturals. 
Our search for new botanical species that are still unknown or unexploited by the industry has led us to discover Namibian myrrh. Myrrh is a common species in the industry, but the one identified in Namibia is a different species with its own olfactive characteristics used by local people as an ointment against the sun and unknown by the flavor and fragrance industry.
Another way to innovate is to reinvent known species through technology, by exploring different extraction processes to offer ingredient with new tonalities. We recently developed a Jungle Essencea extraction of lavender flowers only. Lavender is usually extracted with the stems, so Jungle Essence is closer to the flowers' floral fragrance – as if you were walking in the field.   
Renowned naturals can also develop new facets when they originate from a different territory. Many years ago, a premium variety of vetiver was sourced in Madagascar, vetiver bourbon. The production decreased until it disappeared and the Haiti production of vetiver now stands as the most popular one. A couple of years ago, MANE secured a partnership in Madagascar to renew with the bourbon type and is now harvesting the precious roots.
In term of new naturals, Mane also surprised at the [2016] World Perfumery Congress (WPC) with a Timur pepper sourced through a meaningful partnership in Nepal. Locally dedicated teams and local offices have identified this pepper in Nepalese markets, which is really different from the conventional Sichuan pepper boasting a sparkling grapefruit top note used today in both flavors and perfumes. 
P&F: What do you find consumers are looking for currently?
As far as the end consumers are concerned, they look for natural ingredients, respectful sourcing and more transparency in the labeling.  
Many of our clients on the consumer end are looking for customized ingredients for them— the ingredient that will completely make sense for their brand and comes with a beautiful story to leverage on. Therefore, there is a multiplication of small exclusive projects.
P&F: How is Mane addressing environmental concerns?
Mane is a signatory of the United Nations Global Compact since 2003 and of the "Caring for Climate" Initiative Act.
We are focusing on reducing supply chains to reduce trading margins and increase benefits for local communities. Vanilla, vetiver bourbon, geranium bourbon, Timur pepper and Namibian myrrh to name a few are examples of partnerships where we are working hand in hand with farmers for mutual benefits.
Sustainability also means local sourcing. Thanks to its location at the heart of the Grasse region, Mane set up local partnerships with producers of well-known perfumery ingredients, such as rose or jasmine. These collaborations allow preservation of the ancestral know-how of the region and protect the fields from being sold for non-agricultural purposes.
Both partners are working together to rapidly handle the fresh materials in order to preserve the delicate smell of flowers or plants.
Within its sustainable development policy, Mane also implemented a responsible purchasing approach integrating corporate social responsibility processes. All suppliers are informed of our CSR approach, the suppliers' risks are qualified and, based on these results, suppliers will be evaluated through on-site audits or independent ECOVADIS evaluation.  
P&F: What is your definition of sustainability?
Sustainability is the quality of not being harmful to the environment or natural resources, thus meeting the needs of the present without compromising the ability of future generations to meet their own needs. It has to preserve biodiversity and be economically and socially viable.
P&F: In your opinion, what are some challenges the industry faces in sourcing naturals?
Challenges range from resource availability related to geo-environmental issues (weather, earthquake, tsunami) to political stability, quality of the raw materials and price speculation.
P&F: How is sustainability evolving within the past several years? (i.e. latest technologies, supply-chain initiatives, etc.)
To improve production processes and develop more eco-friendly and healthy products, Mane developed in 2011 an assessment tool named Green Motion.b This innovative tool allows companies to calculate the green footprint of ingredients or final solutions and set goals for improvement. Based on the 12 principles of Green Chemistry, it rates the health, safety and environmental impact of ingredients for the F&F industry on a zero to 100 scale. The safer and the less impactful the process is, the higher the rating.
P&F: How is Green Motion playing a role in sustainability in naturals?
It aims to help chemists reduce carbon and water footprints, using renewable resources or minimizing hazards and formulators to develop solutions with a greener footprint. For example, Mane's perfumers can now choose among their ingredients portfolio to compound those which will have the best footprint on the environment.
P&F: Do you see green assessment evolving with more components to measure?
Green Motion is a gate to gate analysis, from raw material arrival to the facilities to the final flavor or fragrance sold to our clients. More sourcing criteria could be taken into account in the future.
P&F: How has MANE embraced biotechnology?
Since 1987, we have beendeveloping and producing patented aroma chemicals through enzymatic and microbial engineering. We use more environmentally friendly processesto synthesize 100% natural fragrance or flavor molecules with greater economies than with conventional synthetic processes.
P&F: Where do you see the industry headed in sustainably sourcing naturals?
Toward more transparency on the sourcing and labeling, shortened supply-chain and the development of local partnerships.
a Jungle Essence is a registered tradename of MANE.
b Green Motion is a registered tradename of MANE.