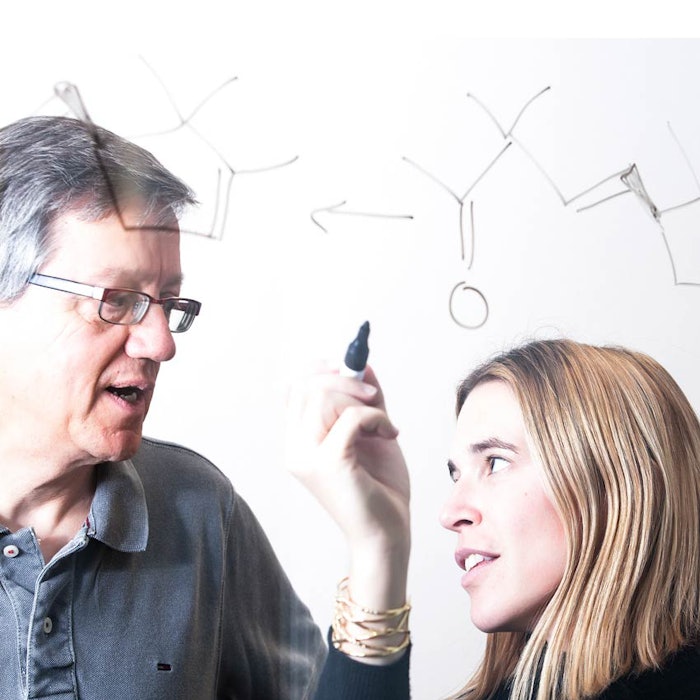 Originally from Luxembourg, Maud Reiter studied in the United Kingdom and U.S., earning a Ph.D in organic chemistry. In her role as director of new ingredients discovery, R&D synthetics at Firmenich, she is responsible for synthetics with a focus on perfumery ingredients. She works with a team of several different laboratory units specializing in delivering perfumery candidates, for the perfumery palette.
François-Raphael Balestra discovered perfumery as a child. He was first introduced to Firmenich at the age of seven as his mother started working there in the early 80's. Before beginning with Firmenich as a trainee perfumer in 1999, François-Raphael studied chemical engineering in Switzerland. Along with working as a creative perfumer, he is responsible for the discovery of new synthetic and biotech ingredients as perfumer and director of new ingredients discovery at Firmenich. This includes testing and evaluating the highest quality molecules, which is narrowed down to an average of four released each year.
Perfumer & Flavorist: What determines a synthetic material's success to be used in formulations?
Maud Reiter: Every year, the research teams at Firmenich work on delivering about 2000 synthetic molecules. Up to four are introduced into the perfumery palette.
François-Raphael Balestra:
First and above all, we do not develop any molecules that are not biodegradable.
Then, for perfumers what's interesting is the smell: the hedonic aspect is the key driver of the success. The stability in different media in which we can use it and the regulatory part are also very key. As you know regulatory rules are evolving every year and there's obviously a need to replace missing ingredients every year.
"The beauty of our job consists in the continuous search for unique new smells, which drives and motivates us daily." Maud Reiter
The cost is also an important key.
Along with smell, stability, regulatory and cost, the patentability of the molecule is essential because it's not possible to patent a fragrance—and we protect our creative fragrances through patented molecules.
MR: During his time as CEO, Patrick Firmenich took the decision to only develop molecules that are biodegradable. It was a big decision at the time: the Firmenich Green Gate was born. 
This is something that is at the core of Firmenich's focus on sustainability and it is something that we are very proud of.   
I think a part of it comes from the fact that Firmenich is a family owned company that has been working in this field for 125 years, as such the environment has to be at the forefront of all our thinking.
When we start a new project, we take things that we learned from previous molecules into account and design our structures with biodegradability in mind.
P&F: What segments are areas of growth for synthetics?
FRB: We believe that synthetics are fundamental and a complement to naturals. For instance it's impossible to get watery or lily of the valley notes from nature. We need to have both naturals and synthetics to create the best fragrances. We also focus on finding alternatives to natural products for which we know that the demand is growing faster than the supply capacity.
Sandalwood for example is something very important to us and for perfumery. There is a much higher demand for it and we see this opportunity for synthetics to mimic nature.
Firmenich is also working for more than 20 years in a huge muguet and white floral notes research program. You can't produce any lily of the valley natural extract. Without synthetic ingredients, perfumers won't be able to create this type of famous accords.
"We believe that synthetics are fundamental and a complement to naturals." François-Raphael Balestra
MR: The white biotechnolgy research platform that we've been running for nearly 15 years with the recent launches of Clearwooda and Ambroxb Super is an area that we predict will continue to grow. As a combination of naturals with synthetic areas, we chemists have only scratched the surface of what is possible. One of the interesting aspects of this technology is the fact that it uses sustainably produced sugar as a renewable carbon source.
P&F: How can the perception of synthetics improve in the public eye?
MR: I think there are several advantages to synthetics. To name just two:          
Sustainability aspect: By applying cutting-edge chemical technologies and following green chemistry principles, we can produce synthetic ingredients in an increasingly sustainable way versus some of the more traditional, naturally extracted ingredients. This is a continuous improvement process and it is important to share this very key commitment with the public.
If we are able to offer complements to naturals that will enable us to decrease the pressure on fragile supply chains of natural products, then we reduce the pressure on limited and precious natural resources.
An example is sandalwood. We have a ten-fold higher market demand than the natural supply and the tree is a protected species, which takes 20 years to produce the essential sandalwood oil. Through the development of an iconic synthetic sandalwood molecule portfolio at Firmenich, we are able contribute to the protection of the natural source.
P&F: How do you two work together to develop new molecules?
FRB: We interact daily. Every day I will do evaluations of new proposals coming from Maud's team. Of course it is very important that we share that feedback very regularly [with the team] to really focus and identify the best options.
I represent Firmenich perfumers and speak on their behalf, taking in account their feedback collected from all over the world. Once a new ingredient is introduced to the creative palette, (most of the time as a captive), I promote it and open the debate on the future need that I will share with Maud for new programs.
MR: Of course a perfumer can only be as creative as the richness of the available palette allows him to be. Our job is to work towards enriching this palette. Among others, we closely follow innovation that's happening in the chemistry community to look for inspirations concerning new methodologies and technologies that we could apply towards making perfume candidates. This includes partnering with academia, such Princeton University, which is a way to stay ahead of the game.
P&F: Can you share a success story within each of your roles?
FRB: When I started perfumery, I was part of the perfumers who were dreaming to have synthetic or biosynthetic patchouli. When I started in 1999, we were very far from [developing it]. In 2014, we managed to produce the first Clearwood after 10 years of research in white biotechnology! It was a big emotion to smell it and [knowing] that it was produced through biotechnology using sugar cane as a carbon source, and finally using a fermentation process. We were able to produce a complex product as complex as patchouli. The beauty of that is Clearwood is not a patchouli-replacer. It brings a new olfactive route into the palette. The name Clearwood comes from the fact that it's clearer and more transparent than patchouli.
The second story is that all the perfumers received it very positively and we can say after three years, it has been one of the biggest successes of the company. It's the first biotech ingredient for perfumery.
MR: It is a story from one of my predecessors, who helped discover a molecule called Lilyflore.c It was introduced into the global market last year. It's a beautiful lily of the valley odor and quite illustrative of how often perfumery and science can work together. Actually it was an intermediate and not an end-product, which elicited the perfumer's interest. [It combines] the skill of the chemist—to know which intermediate to make—and the perfumer – to point the finger at the intermediate and say 'This is interesting.'
The muguet family is a family with a long and strong history at Firmenich and that we will continue to work on in the future.
The beauty of our job consists in the continuous search for unique new smells, which drives and motivates us daily.
FRB: Blind smelling few molecules every day is a way to continually practicing the nose. You think you know an ingredient, but it might have some hidden aspects; we work with our memory. It's always good to re-smell those ingredients. You really discover things that are interesting. Like visiting old, but good friends, you might discover something new about them that you never knew.
Footnote

a Clearwood is a registered tradename of Firmenich.
b Ambrox is a registered tradename of Firmenich.
c Lilyflore is a registered trademark of Firmenich.