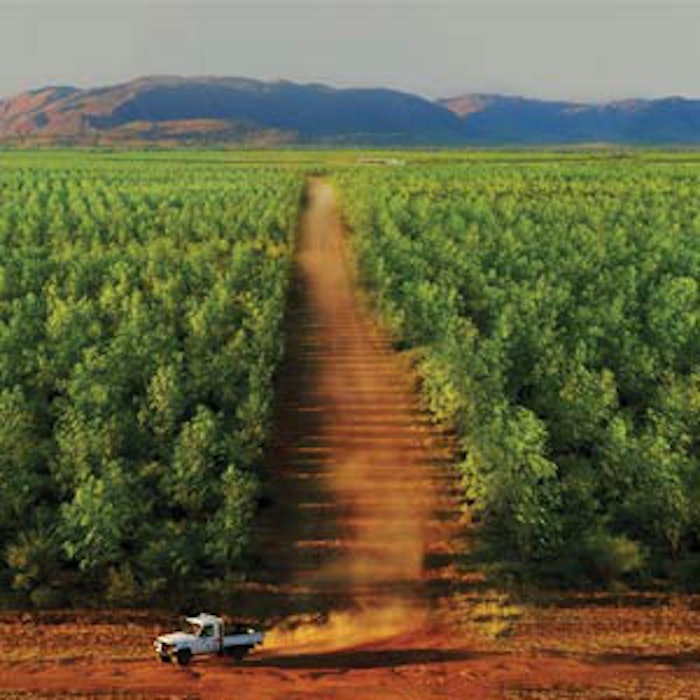 The July 2015 edition of P&F, "Reaching toward Sustainability," in part focuses on cross-industry efforts to preserve the natural heritage of the F&F industry. Indian sandalwood (Santalum album) represents one of perfumery's most revered and troubled ingredients.
Indian Sandalwood in Fragrances
The heartwood, oil and spent charge of Indian sandalwood yield products of commercial importance around the world. The oil, the core item of interest for fragrance formulators, is of course used in fragrances, particularly in Europe and the United States.
The material has strong fixative properties and, according to figures presented in Michael Edwards' "Fragrances of the World," is so popular that about 47% of all perfumes created since 1790 contain sandalwood notes.
In aromatherapy products for the United States and Europe, sandalwood is a top-10 most popular natural oil. In the Middle East, on the other hand, Indian sandalwood is used in alcohol-free attars that fix the fragrance of flowers and spices.
Finally, the spent charge of sandalwood is applied to incense products, primarily in China, Taiwan and India. Some estimates put India's daily sandalwood incense stick burn at 500 million each day. The sweet woody scent is said to promote meditation and divine connection. Use of these waste-stream products boosts the sustainability profile of Indian sandalwood.
Indian Sandalwood in Medicine
Indian sandalwood oil is also applied to pharmaceuticals in the United States and Europe for its anti-inflammatory, anti-bacterial, anti-fungal and anti-proliferative properties. According to TFS Corporation Ltd., it is now the subject of clinical trials to develop prescription drugs to treat the skin.
This activity has led to its application as a cosmetic ingredient in the United States and Europe. Meanwhile, in India and China, sandalwood has been applied in TCM (traditional Chinese medicine) and Ayurveda to treat ailments such as bronchitis, skin conditions and stress.
Other Applications
The heartwood of Indian sandalwood is used for carvings and furniture in China, Taiwan, India and Southeast Asia; is fashioned into sticks and burned for its odor in the Middle East and North Africa; and is applied in wood and powder form to religious rituals throughout India and Asia.
It is clear that Indian sandalwood is a versatile botanical.
Here, in an online exclusive, Mario Di Lallo, head of global products of TFS Corporation Ltd., discusses the challenges and opportunities in producing sustainable Indian sandalwood in Australia.
Growing Indian Sandalwood in Australia
Here, in an online exclusive, Mario Di Lallo, head of global products of TFS Corporation Ltd., discusses the challenges and opportunities in producing sustainable Indian sandalwood in Australia.

-Editor
Establishing a Viable Plantation
Indian sandalwood is a fragrant oil bearing tree. To achieve a commercially viable plantation you need to achieve good survival rates and yields of heartwood and oil. You also need to be able to create a consistent product with the right constituents to meet the standards of the global pharmaceutical, fragrance, cosmetics and traditional markets.
We've found that by replicating the natural environment of India's forests our plantation-grown Indian sandalwood trees produce heartwood and oil naturally. Our researchers have found that a minimum trunk diameter is required for heartwood initiation to occur, so we focus on selective breeding and natural forestry management to produce larger trees and ultimately greater yields of heartwood and oil. We also use an abundance of optimal host trees that provide water and metabolites essential to the growth of the parasitic Indian sandalwood tree. All of this helps give us forecast oil yields of around 3.7%.
Since 1999, TFS has invested in research into soil types (a key determinant of sandalwood quality), host tree management, tree breeding, land preparation and irrigation. We've also enhanced our tree breeding program which involved identifying plus trees for a seed orchard and establishing a progeny trial to validate the superior growth of the selected trees. Recent testing found that these trees achieved up to 18% greater growth and yields compared to other trees at the same age. This has helped us to achieve more than 90% survival rates after planting and delivered greater growth rates and yields because of this unique intellectual property.
Commercial Production of Sandalwood Oil
The other area of challenge is the commercial production of sandalwood oil, a process that is markedly different to lab and small scale distillations. In 2008 we acquired Mount Romance, the world's largest distiller of sandalwood. This helped us to overcome many challenges before we began commercial-scale distillations of Indian sandalwood oil. The intellectual property from Mount Romance gave TFS a good platform to begin further research, giving us an advanced understanding of the composition, fractions and behaviors of sandalwood species during distillation.
Since TFS acquired Mount Romance, we've invested millions to improve equipment and processes. We've been conducting systematic trials at the facility, and over the past three years we've formalized and extended our research program. This has helped us to improve both our understanding of and processes for the distillation of Indian sandalwood.
Key to this has been a partnership with biomedical researchers in the United States. The combined experience and expertise of our Australian and US teams (in 2015 TFS acquired its pharmaceutical partners Viroxis and Santalis Pharmaceuticals Inc.) has allowed TFS to create a pharmaceutical-grade of Indian sandalwood oil. Today we work according to ICH Q7, a quality assurance system used to regulate pharmaceutical production to control and monitor quality from tree growth through to harvesting, distillation and analysis. In the United States, this pharmaceutical-grade oil is part of trials to create prescription drugs to treat dermatological conditions.
How Close to Indian-grown Products?
From a composition perspective, TFS plantation-grown Indian sandalwood trees have the same high sesquiterpenols (including santalols) and olfactory profile as wild sandalwood. 
Boosting Sustainability
Indian sandalwood is recognized as a vulnerable species on the World Conservation Union Threatened Species Redlist. Plantations help to relieve the pressure on wild resources.
TFS has an environmental program that is managed according to ISO 14001 (Environment). This means we aim for continual improvement and monitor our impact on an ongoing basis. Where possible, we find efficient solutions that benefit the company and the environment. One example is drip irrigation which helps to increase survival rates and reduce water usage by more than 70% against flood irrigation. TFS also uses renewable energy and an award-winning water recycling system at its Mount Romance processing facility.
We're also mindful of the impact of the dwindling harvests from India. TFS works with Nobel Peace Prize Winner Kailash Satyarthi and his organization, Bachpan Bachao Andolan, which means "Save the Children" in Hindi. Through this group we sponsor a project that promotes education, children's and human rights and democracy in a small Indian village near where sandalwood once grew.