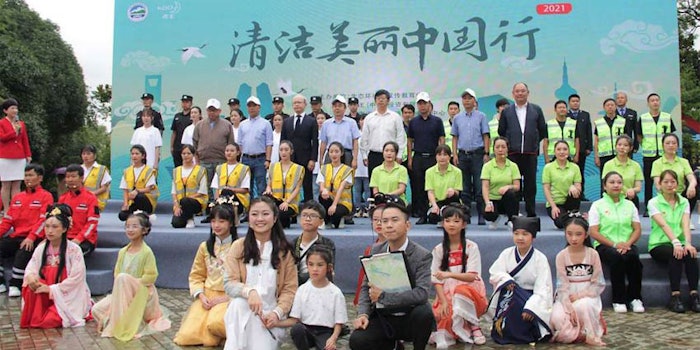 Kao, in collaboration with the Center for Environmental Education and Communications (CEEC) of China's Ministry of Ecology and Environment, began to promote China's nationwide cleanliness and water-saving initiatives.
Related: One-on-One with Pura Co-founder & CEO Bruno Lima
In addition to advocating an energy-saving and low-carbon lifestyle, Kao will continue to raise awareness regarding environmental protection in China and commit to the sustainable growth of society.
The organizations have worked together since 2012 to raise awareness about the importance of environmental protection using the slogan, "Save 10,000 liters of water annually per household," and seeks to promote sustainable development in China.
The opening ceremony was held in Kunming City, Yunnan Province, China. It was attended by approximately 200 individuals from government, businesses, local communities, the media and volunteer groups.
This year's theme is "Toward a Clean and Beautiful China."
He Jiazhen, deputy chief of the CEEC, said, "I hope that this activity will encourage people to start with addressing everyday issues in order to realize a green lifestyle and promote environmental protection. I also hope that each person's action will ultimately grow into a powerful mainstream movement for the creation of an ecological civilization."
Toshikazu Chizaki, vice president of Kao (China) Holding Co., Ltd., added, "China's nationwide cleanliness and water-saving initiatives have entered their tenth year as an important facet of Kao's ESG activities, and the tenth year will be marked by a more ambitious theme, 'Toward a Clean and Beautiful China,' in response to China's environmental strategy. I hope that your cooperation will help make the global environment cleaner and more beautiful."
Want to know everything going on in flavor & fragrance? Sign up for P&F+'s newsletter. You can also follow along on Instagram and LinkedIn.