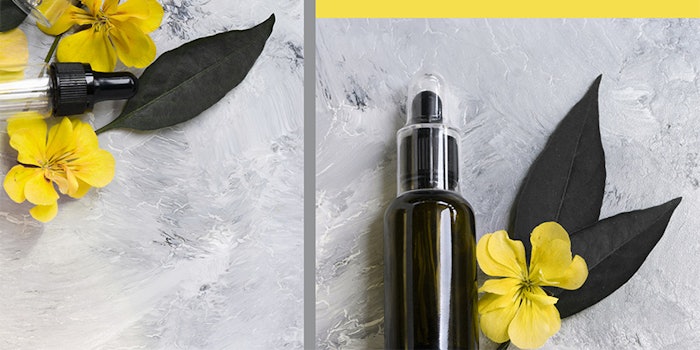 Firmenich has launched a new collection of fragrances inspired by the Pantone Color of the Year 2021. Nine new fragrances, developed by nine Firmenich perfumers from around the world, highlight the important themes of strength and optimism.
Nine Firmenich perfumers from around the world developed a new collection of fragrances, which comprise naturals, molecules, biotech materials, and materials that enhance hygiene and emotional benefits.
Taking inspiration from Ultimate Gray, the perfumers created Clean Slate, Claystone and Smoked Minerals to "explore the olfactive concept of gray clay with a blend of mineral notes."
The Illuminating Yellow scents included Sunshower, Citrus Spirit and Golden Hour, featuring energetic and bright notes of citrus, as well as musk to offer comfort.
The fragrances were developed in formats adapted for liquid hand soap, candles and fine fragrance.
The announcement follows Firmencih's release of its Pantone-inspired flavors for 2021.
Previously: Firmenich Identifies 5 Fragrance Trends to Improve Wellbeing
This year, for the first time, Pantone has selected two colors: Ultimate Gray, a persistent gray, and Illuminating, a golden yellow.
"Today, we are experiencing a moment of resilience, balanced with optimism for the future. The powerful combination of color and scent enables our customers to deliver much-needed comfort and strength to help consumers overcome stress," said Ilaria Resta, president, global perfumery. "Gray, mineral-rich clay comforts us, boosting our steadfastness, while yellow, solar citrus warms us, bringing us hope for tomorrow."
Previously: Firmenich Earns CDP Triple A Listing
Perfumer Ashley Balavoine said: "We created fragrances that respond to consumer needs for security—safety, health and comfort. Consumers have been forced to face ideas they've never faced before, or perhaps taken for granted. We want to ground consumers, reinforce them, and also lift their spirits towards a better future."