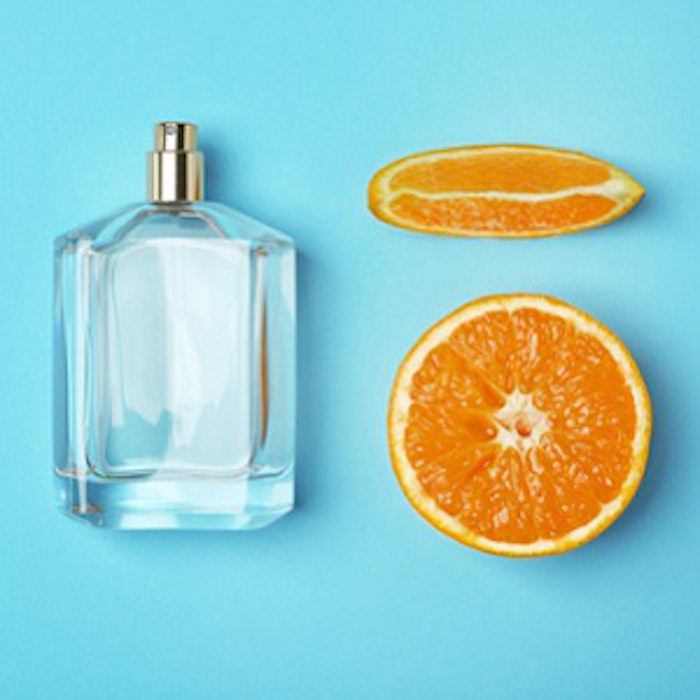 Perfumers have made good use of these ingredients to add freshness and lift in many classic colognes, such as Eau de Rochas, Ô de Lancôme and Acqua di Parma, and modern fragrances, such as ck One and Paco.
The term citrus applies to a range of olfactory experiences. A citrus odor may refer to a natural type such as orange, lemon, grapefruit, lime, bergamot, mandarin, tangerine, or even citronella, which is not a citrus fruit but fits into this odor category. The dominant note may be juicy, bitter, sulfurous, herbal, green, peely, or even hesperidic or hesperidian—a term that implies freshness and sparkle, as opposed to mere fruitiness.
Nature has generously shared the citrus note with unrelated botanicals, such as in lemon thyme and lemon basil. These genotypes produce oils dominated by citral and geraniol, giving a totally different impression from the standard oil. Sometimes grapefruit appears in other places, such as in the fruity notes of certain sauvignon blanc wines, which are enhanced by the presence of 3-mercaptohexan-1-ol. The R-isomer contributes the zesty grapefruit, and the S-isomer the tropical passion fruit note (F-1). 
The use of citrus ingredients is an essential part of every perfumer's education, and the topic is greater than can be covered in a single paper. This report will focus on the aroma chemical aspects and discuss some new discoveries in both natural and synthetic citrus ingredients.
Other topics discussed: Lemon, Aldehydes, Grapefruit, Bergamot, Antiparasitic Properties