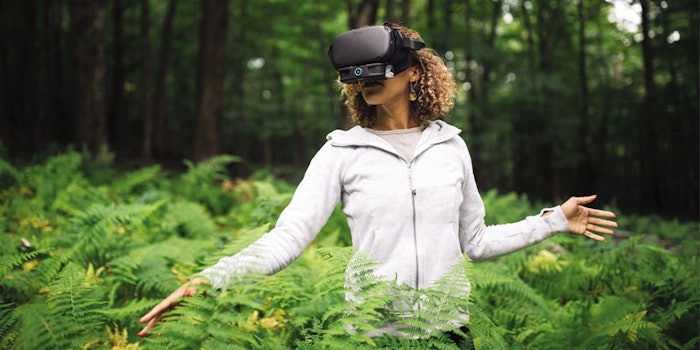 On a mission to unpack the various aspects of wellbeing, OVR Technology (Olfactory Virtual Reality) has merged the worlds of virtual reality and olfactory to create the Architecture of Scent (AOS). Assembling a team of researchers, practitioners and technologists, AOS is designed to use scent to stimulate and access memory to transform cognition, emotion and behavioral responses.
According to OVR, all scents are formulated and manufactured in-house to replicate realistic olfactory experiences for the digital world. Once formulated, each scent is transferred to an interchangeable cartridge compatible with a VR headset. While the headset can only hold nine scents at a time, users can choose from over 250 scents from the OVR Library to pair with their VR experience. The selection of scents is designed to replicate every day to unique experiences—from fresh cut grass to roasting marshmallows. The patented tech allows for .1 millisecond bursts of scent and can change between scents in 20 milliseconds, bounding from one immersive experience to the next.
OVR is currently tuned into assisting with cognitive therapy and stress inoculation for victims of trauma—but the possibility to assimilate this technology into other markets, including aromatherapy and fine fragrance, is on the horizon.
OVR Technology CEO and co-founder Aaron Wisniewski, alongside Sarah Socia, vice president of Scentware, share insight on the various facets of the newly developed technology.
For the full article, please check out the Perfumer & Flavorist+ June 2021 issue.