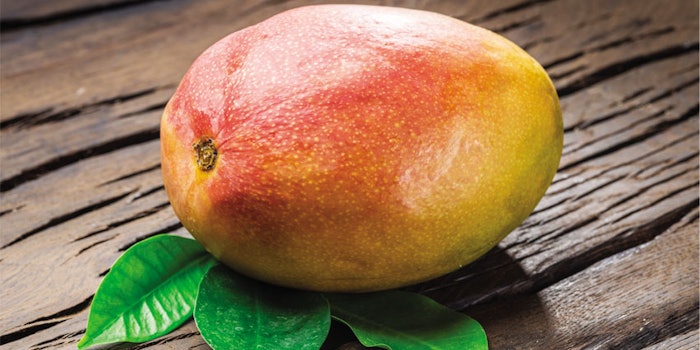 I worked for several years in a subsidiary of the former Bush Boake Allen (acquired by IFF in 2000) in Canada. Large fragrance projects were handled by the United States, but small, local, projects landed in my lap. My short, utterly undistinguished, career as a perfumer concentrated on functional fragrances, mostly destined for the bathroom, where price was the key driver. The freedom to think up fantasy names for my humble creations was a big plus. My first fragrance sale carried the highly dubious title "The First Flush of Spring."
Diphenyl ether (FEMA# 3667, CAS# 101-84-8) was one of my favorite fragrance raw materials. It was cheap, powerful and stable. Why was it so little used in flavors?
The odor of diphenyl ether is aggressively pungent but strongly reminiscent in dilution of mango skins. It is used extensively in mango flavors in Asia, though hardly ever considered beyond that flavor profile. My first experiment with the material was in a lemon juice flavor, and the effect was surprisingly positive. This encouraged me to find out what else it could do.
Note that the dose rates given throughout this article are the levels suggested for use in flavors intended to be dosed at 0.05% in ready-to-drink beverages or in a simple bouillon.
Citrus Flavors
Bergamot: Diphenyl ether is helpful in all citrus flavors, being effective at quite modest levels. Five ppm works well in all bergamot and Earl Grey tea flavors, adding lift and freshness, but higher levels can also be used.
Grapefruit: Lower levels are better in grapefruit flavors, in the region of 2 ppm, adding a bright hint of juice notes.
Lemon: Lemon peel flavors also work well with the addition of around 2 ppm of diphenyl ether, but lemon juice flavors need more, up to 5 ppm.
Lime: Lime flavors that are based on cold-pressed lime oil behave similarly to lemon flavors, but distilled lime oil flavors benefit from significantly higher levels of addition, around 10 ppm.
For the full article, please check out the Perfumer & Flavorist+ March 2021 issue.