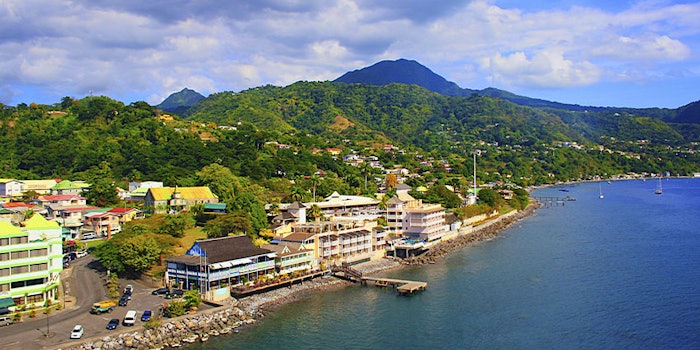 In the southern Caribbean, nestled comfortably between Guadeloupe and Martinique, lies a mountainous tropical island many travelers seem to overlook. Rocky, narrow and covered in lush tropical forests, Dominica is a remote nation located off the coast of Venezuela, home to just over 71,000 people. Geothermal hot springs, large forest reserves and the famous steam-covered "Boiling Lake" make this little island home to a variety of surprises, with some of the most untouched natural environments found on Earth.
However, while most might not know much about the island itself, many know the product for which it is famous: West Indian bay, a crop most commonly distilled to make the eponymous bay oil. Berjé is more than familiar with the hardships of harvesting and transporting goods throughout Dominica, but after a recent visit by Maria-Paz Gonzalez, vice president of product management and sourcing, we've come to better appreciate just how significant bay oil is to the entirety of the Caribbean.
Since the middle of the 18th century, bay oil has been an incredibly important aspect of Dominica's economy. Used by the native population for drinks and medicinal purposes, the ingredient eventually worked its way into a variety of globally used products during the post-colonial era, including lotions, soaps and other hygiene supplies. Known for its reputation for treating severe acne, bay oil became an increasingly popular component of skin care products for travelers and residents alike.
For the full article, please check out Perfumer & Flavorist's November 2020 issue.