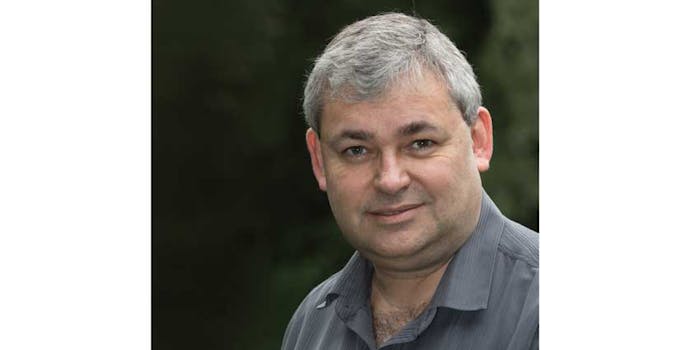 Tim Gage—a senior technical perfumer at CPL Aromas—started his over 30-year-long career with what he describes as a happy accident. "My dad is a keen cyclist and a member of a club, so every weekend we were out at his cycle races, and afterward we'd go around Essex looking for windmills and on long walks," Tim reminisced. "I developed a real love of nature, and particularly a love of observing it in every form."
Tim has since cultivated a fairly serious nature photography hobby—his black-and-white macro images of flora and sensitive portraits of fauna decorate the new CPL Aromas U.K. creative center at Bishop's Stortford.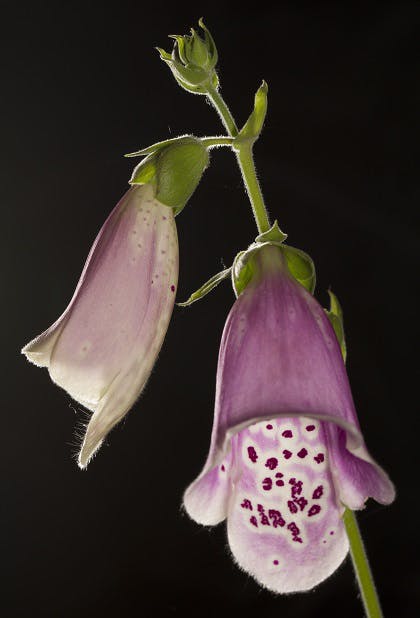 "I was at sixth form, studying geology and fossils. And suddenly I realized that to get into a museum and study the really interesting stuff—I don't mean dinosaurs; I mean trilobites and the everyday environment—getting in to do that as a career would be a dead man's shoes job," explained Tim. "So then I thought, maybe I could work on an oil rig looking through a microscope at ostracods (tiny crustaceans). They use them to predict where there might be oil. But that would have been it—no innovation; no progression.
"I thought, hang on, after a while that'd be very boring. So I decided to keep geology as a hobby and I still examine strata when I walk near cliffs and keep my eyes fixed on the floor when I walk along the beach.
"So for a moment there, I didn't have a clue what I wanted to do. I had studied chemistry, and one day out of the blue my sixth form tutor asked if I might want a job at Bush Boake Allen [BBA]. I'd never heard of them, but said 'okay, it'll fill a gap.' I had no intention of getting into it, but after the first week I thought, actually, this is really quite interesting."
Bush Boake Allen
Tim is a past president of the British Society of Perfumers and a winner of several of the BSP Perfumery Excellence Awards. "Sometimes when we go to the BSP meetings it feels like a BBA reunion," laughed Tim.
There has been an award for one of Tim's creations almost every year for the past few, all while at CPL Aromas: Tu (Sainsbury) Golden Fig Candle in 2012, and Oliver Bonas Pink Pepper & Gingerwood Candle 2016, among others.
"I work in all applications—although I do seem to have had most success with candles recently," explained Tim.
It is notable how many people in British perfumery started their careers at BBA. The company features heavily in the development of the entire industry in Britain.
"It was only after I had been working for 10 years that I found out my mother had been a BBA panel tester!" said Tim. "It's quite amazing I hadn't known that before."
Tim started as a perfumer's assistant and also worked on formulation support. "The batch forms for the factory came to me and I signed those off," he said. Tim also took on quality control duties—sometimes covering each of these areas simultaneously. "There were a lot of late nights and panics but it was a great way to learn. I am glad I did it. There were good people to work with—without that, I don't think you could have done it."
Before really noticing what was happening, Tim moved gradually from fixing problems in formulas to creative perfumery. "I found myself doing creative briefs and it was never really discussed as far as I remember—it just sort of happened. It was pretty much, oh, we're really busy; we need somebody else to take something on, and before I knew it, I was a perfumer. A trainee perfumer, but still."
Layers of perfumery
"Before I started at BBA, I would have thought, just like any layman, that lemon washing up liquid is made by someone getting a lemon and squeezing some of it into the gloop," said Tim. "And of course when I found out that there is unlikely to be any lemon in most washing up liquid fragrances, and that the formulas can run up to 30 or even 40 ingredients, I felt like I had discovered a whole new world I didn't know about. That was 33 years ago."
The topic instantly became interesting to Tim and has kept his mind occupied ever since. "I realized there was a huge industry involved in producing fragrances for all kinds of applications; not just fine fragrance.
"I was very lucky in that the perfumers around me would answer any and all of my questions. They'd explain why they were using a certain material and were always ready to work through the formula with me and show me what they'd done."
Tim continued working in quality control while he began developing as a perfumer: "You learn the materials that come in through QC every day. So you can't ignore the materials you don't think are interesting. You have to learn all of them. And you don't get a choice on the order you do them in either. It was a good way to learn. It did feel frustrating at times, but when you've got a problem with one of the materials, you have to study it, find out the cause, and how to get around it. It teaches you so much.
"Of course, what I also learned was that you've got a load of other things to worry about as well as the smell which in some ways makes all of this more interesting. It can be frustrating when things just don't work and you can end up doing what seem like endless trials. But when you do finally get things to work, there is a real sense of achievement."
For many perfumers, the craft is a combination of creativity and detective work—kind of creative problem solving. In a way, looking at the profession through that lens gives us some insight about the way in which the industry has handled IFRA and client-imposed restrictions. Many people have wondered why there hasn't been a bigger outcry from perfumers about restrictions on materials and usage levels. Some of it is down to the fact that many perfumers view this as an interesting challenge. "There are days when all I do is modifying existing formulas for regulations," explained Tim, "but then that's quite interesting.
"I find it invigorating to have a problem to solve," said Tim. "Particularly on the raw materials side of the industry; not just with naturals, but with synthetics as well—and looking at how different structures smell and give you different performance on cloth or burn in a candle.
"Of course, sometimes attempting to predict by structure doesn't work at all and it is probably much more complicated than we are trying to make out. We may never really find out what is definitively going on, but it is likely to be multiple things."
The two main theories on what makes molecules smell the way they do are the commonly accepted shape theory, and Luca Turin's controversial vibration theory of smell. Many people—including Turin—have conceded that there are likely to be multiple mechanisms at play.
"Mother nature is very clever," said Tim. "Quite a lot of what we do as perfumers is to try to replicate it."
Modern creativity
"You ever stop learning. I certainly haven't. You learn things every day. Even the most basic materials that you think you know well—when you smell them again, or someone says something about them one day— you end up learning new things. You have to listen to what other people think and say. Particularly when getting feedback about your fragrances. Unless you understand their language and how they perceive a particular effect, you can't react," explained Tim.
Regulatory aspects and client-imposed restrictions have become a central theme in modern perfumery, to such an extent that it is sometimes easier to start with a positive list of raw materials and work on the odor after. Depending on the project's requirements, Tim uses two approaches:
"If you've got quite a lot of freedom, you can create a smell you like and then modify it for regulations. If the regulations are strong, they simply knock out a lot of materials, so the regulations and restrictions come first and then you work on the odor."
Cost is also a big issue in today's perfumery. Many core budgetary expectations have not evolved to scale up in line with price increases of the raw materials. Orange oil used to cost 1 pound per kilo and is now 10 pounds and above. Yet the client will expect to pay the same amount for the compound containing it as they did 10 years ago.
Many of the projects at CPL Aromas allow for some extra creativity and budget because CPL is a known supplier of high end and niche fragrances.
"It is interesting when you get a modern product where you can be a little bit more creative. Sometimes it is almost difficult to know what to do to start—at first you think wow, what a nice project and then you realize you have forgotten what to do with all that money," laughed Tim.
Crawley
"I was made redundant from BBA. I spent quite a long time trying to get back into the industry and after about 18 months I'd practically given up and thought this isn't going to happen. My wife, who also worked at BBA, was made redundant as well and she got a job in Crawley for a pasta company. She had been an admin for fragrance production coordination, so she got a similar job at the pasta company. So we moved down there," Tim reminisced.
Crawley sounds like a name invented by Mervyn Peake, but it is a real place in Surrey, England. Alas, Tim's time spent living and working there with his wife might as well have been penned by Peake—it was not entirely pleasant for Tim, who longed to be back working in fragrance. He took a job at Gatwick Airport as a stopgap while continuing to look for opportunities to get back into the industry.
"Working for four days off and four days on, in 12-hour shifts at the airport was pure hell. A lot of time we were just waiting for the next plane to land. I turned into a zombie. Then a job came up in quality control at the pasta company. It sounded like it might be interesting, so I took it," explained Tim.
"After about a week or so I was bored stiff. All you're doing is checking moisture content and keeping an eye on the metal detector. When pasta comes on the line, it goes through a metal detector hoop, and if it detects something, you have to go and see what it has found. So you are digging through pasta ... and apart from it being boring, the whole house smelled of pasta in the end."
Tim had all but given up hope, but then he received a life-changing phone call. "We were on our way back from our honeymoon, and I got a phone call while my wife and I were waiting for our luggage at the Heathrow baggage hall. 'Are you still looking for a job in fragrance?' … It was CPL Aromas.
"After two meetings at Barrington Hall, they said 'we want you in regulatory.' It was a bit of a departure, but a way to use my existing technical knowledge, QC and perfumery experience in a new way. I could look at the regulatory matters from the 'other side,' through the eyes of a perfumer. So rather than just turning out paperwork, saying this fragrance is labeled so-and-so, I was able to suggest tweaks to formulas to avoid the issue altogether."
The lesser-known decimal point incident
There is a myth about how Chanel No. 5 got its aldehyde overdose. The legend goes that a technician misplaced a decimal point and weighed the wrong amount for a sample. While still relatively new to the job, Tim had a similar, if much less famous incident.
"When I was in formulation management at BBA, I signed off all batch forms. Part of the job was dealing with a batch of a material that was not quite to standard," explained Tim.
"We had a batch of lovage root oil that for some reason was much stronger than normal. So you had to reduce the level in the formula. Lovage was used in a base of which we only went through at the rate of about two kilos a year. So the batch form comes up, and they were only supposed to be making a kilo of it, or something like that. I worked out the adjusted amount of lovage to account for the stronger batch, and put in the new amount. That same afternoon, I got a phone call: 'Well, we've used up all the lovage root oil, what do we use to top it up because we haven't got enough?'
"I thought hang on, I cut that down from 300 grams to 30 grams. They say 'no you didn't,' and I went to check ... and realized I had got the decimal point in the wrong place. This was in 1990. And as a result of this mistake, we had enough stock left of this base to last until March 2011."
These days Tim is in a senior role and now working with the next generation of perfumers, as well as on his own projects. He also continues to help with the ingredient selection panels at CPL Aromas, and with quality control issues.
"Every day is different. I can be working on fine fragrance one minute, and then 10 minutes later, I'll be doing a reed diffuser or a fabric conditioner or modifying a formula. Pretty much anything can come my way," Tim said.
"I don't think of myself as a mentor. There is definitely experience that I have gained that can be passed on, but working with younger colleagues, you also learn from them. It is a two-way flow of information. We might be able to show them how we have worked with the older materials all along, but they might come up with a new way of using them. With newer materials, we are all learning."
The anonymity of his position as a perfumer doesn't bother Tim—in fact, he rather likes being behind the scenes.
"One of the best feelings is when you see something on the shop shelf, even if it's not got your name on it and nobody knows—you know. And that's all that matters. It's lovely going to the supermarket and seeing something on the shelf that you have done. Especially when someone comes along beside you and says to the friend they're shopping with: 'Oh, have you tried that, it's great!'
"You don't mention anything, of course, but you walk out with a silly grin on your face."