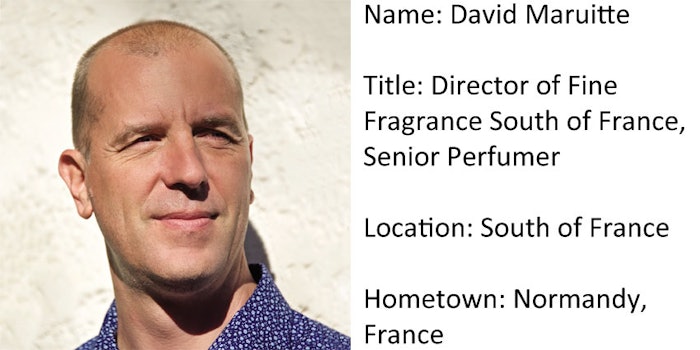 Perfumer & Flavorist+ [P&F+]: What led you to the fragrance industry?
David Maruitte [DM]: I fell into the industry when I was young and also a little by chance, as my parents were selling perfumes in their work council.
P&F+: What applications do you primarily formulate for? Do you have a favorite?
DM: I like all applications, but I prefer formulating for candles, because of their creative and technical qualities.
P&F+: Are there any recent projects/wins you're particularly proud of?
DM: I have moved to the U.S. three years ago with my family, and I've found the new fragrance culture so rewarding! I am really proud of my last creation with the fine fragrance niche brand Laboratorio Olfattivo, Nerosa, or black rose, a dark, rich and deep unisex eau de parfum.
P&F+: Where do you find inspiration?
DM: It comes from my everyday life.
P&F++: Are there any local ingredients that inspire you?
DM: I like lavender, a symbol of Provence.
P&F+: Describe yourself in three ingredients.
DM: Ambrocenide, red Mandarin oil and Osmanthus absolute.
P&F+: Do you have any favorite ingredients to work with? Why?
DM: Ambrocenide is my current favorite raw material. I like it for its olfactive and technical qualities.
P&F+: How has COVID-19 affected your day-to-day as a perfumer or flavorist?
DM: Creation is a profession of perpetual questioning. Perfumers must meet the needs expressed by customers, so I will try to Continue to Offer of Very Idealistic Distractions with my fragrances.