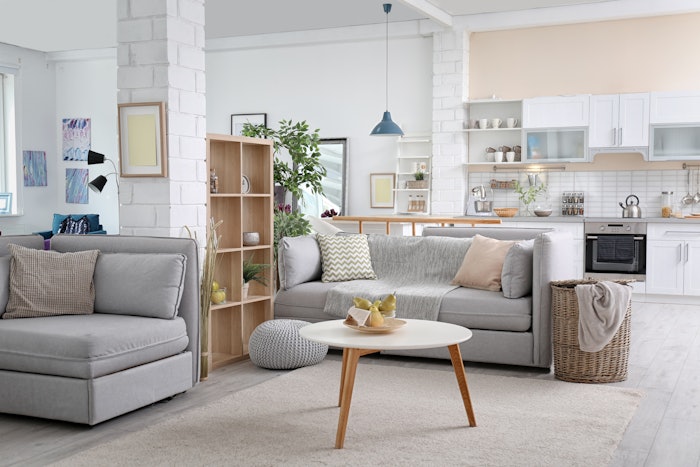 Adobe Stock
The concept of scent-scaping took off during the COVID-19 pandemic when the world was forced to stay indoors. The concept refers to using different scents, either by utilizing candles or air fresheners, in each room or area of your home to create a different ambiance through scent. Düllberg Konzentra picks up on this trend with four floor-cleaning fragrance concepts designed to transform homes into places of well-being for all the senses called My Healthy Home.
The My Healthy Home fragrance concept color palette solely consists of muted shades designed to exude a sense of well-being. 
"Against this background, it makes perfect sense that the interest in body care, health and fitness products, all of which have long been key elements in self-care routines, should now expand to encompass household products," says Christian Lüke, in charge of marketing at Düllberg Konzentra. "Modern household and floor cleaners are, essentially, an additional facet of self-care. They play an important role in preserving the longevity of our living spaces; they contribute to the sustainability concept, and they allow us to be relaxed hosts. In other words, they contribute to healthy well-being on many different levels."     
"Our new fragrances are aimed particularly at people who want to enrich their homes and lifestyle by adding a new, sensual dimension with consciously chosen all-purpose and floor cleaners. Most of Düllberg Konzentra's fragrance concepts are based on natural ingredients with the purest essential oils, meaning that people can do this with a good conscience," Lüke continued.     
"When it comes to appealing to the senses, the visual impression plays an important supporting role. With this in mind, we developed a color world that instantly signals naturalness and harmony", explained Lisa-Marie Achilles. 
Lüke added, "These fragrance and color ideas allow the cleaning product industry to create product innovations that plug into today's key trend."