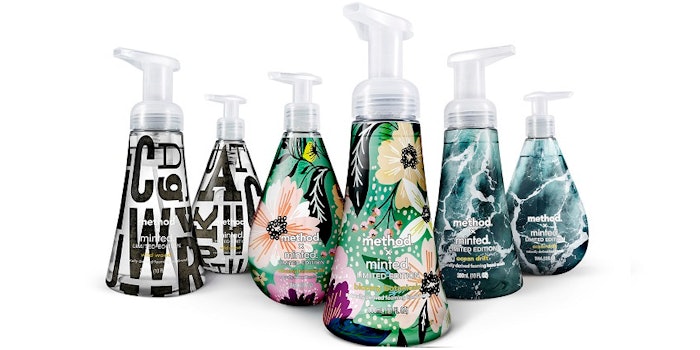 Plant-friendly home care brand method is freshening up the aisles at Target with its collection of soaps, in collaboration with design platform Minted.
Formulated with plant-based, biodegradable ingredients, the method x Minted collection features a range of scents from floral to fresh and fruity. The four scents in the collection include:
Bloomy Bouquet – This floral fragrance features hints of lily and orchid and bottle artwork from Seattle-based Minted designer Rachel Nanfelt.
Ocean Drift – Blending nautical notes, this fragrance is a cool, marine scent and features bottle artwork from Brooklyn-based Minted artist Tommy Kwak.
Tropical Cloud – A fresh and fruity fragrance, this scent features mangosteen and passionfruit notes and bottle artwork from Montana-based Minted artist Mya Bessette.
Wild Wood – This spicy, warm and woody fragrance features notes of cedarwood and amber and bottle artwork from Pennsylvania-based Minted artist Erin Niehenke.
The collection of hand and dish soaps will retail starting at $3.49 and can be purchased exclusively from Target and Target.com.
Related: Scent and Efficacy in Home Care
"Minted gives artists a place to gain exposure and build their business through their creative expression, making them a natural fit for method's 'design for good' platform," said Connie Chen, VP of brand marketing, method. "At method, we truly view cleaning as an act of creative expression. We're thrilled to join forces with Minted to combine their captivating artwork and artist stories with our plant-based ingredients and inspired scents."