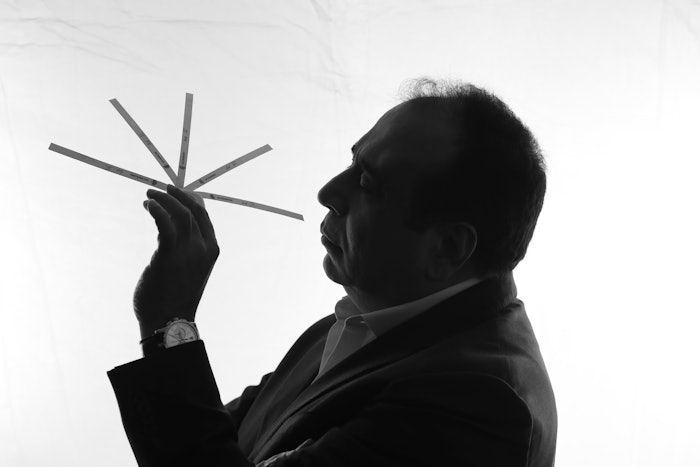 Our next spotlight in our profile series is on Sacheerome managing director and chief perfumer Manoj Arora. With over four decades of experience in the flavor and fragrance industry, Arora shares his first scent memory, advice for up-and-comers and how the job of a perfumer has evolved over the years.
P&F+: What led you to the fragrance industry?
Manoj Arora [MA]: When you are destined to do something, the whole universe conspires to make it happen. The realm of fragrance and perfume was my calling and I am happy to be here. I belong to the third generation of my family in this business. My grandfather was in the business of trading saffron, real musk and natural aroma ingredients. My father shifted the business toward importing and exporting aromatic ingredients and manufacturing fragrances under the name of Calcutta Perfumery Works.   
I started my journey in the fragrance business back in 1980. To expand my understanding of the market, I began traveling to European countries to source raw materials. During my visits to Europe, I spent a lot of time with the perfumers as I was always fascinated with the creativity and matching of fragrances, practiced a lot, which continues. A few of these master perfumers identified a perfumer in me and enlightened me with the art of modern perfumery under their guidance and mentorship. 
P&F+: What is your first scent memory?
MA: Perfume is described as the art that triggers memories, and being surrounded by fragrances all my life, I have many distinct scent memories, sharing one from my early career that stands out.
At the beginning of my career, I used to travel a lot to the Middle East and discovered that oud was the most prevalent and highly valued note in the region, despite its high cost.
One of the customers wanted to launch his range of talc, toilet soap, cream, and lotions with a new fragrance for that region.  I thought to capture the profile of oud by adding distinctive touch and providing fragrances for different applications. This happened almost three decades ago yet the memory and fragrance still linger. When the customer smelled the applicated products, he exclaimed "Mashallah oud!" It brings me great joy to see that today, oud has become one of the most significant trends in the fragrance industry worldwide.
P&F+: What is the best peice of advice you've been given?
MA: At the beginning of my career, a senior perfumer who was convinced of my abilities, advised me to "stick to it, practice a lot and always continue with new creations to remain relevant, the moment you stop, you will get obsolete." I followed his words of wisdom and shall continue to deliver new notes et accords.
P&F+: Are there any recent projects you're particularly proud of?
MA: During the peak of the pandemic our new range of fragrances having cues of wellness and hygiene, curated using in-house knowledge of fragrances and Ayurveda, was very well accepted by the global clientele. Despite facing obstacles such as procurement and shipment due to supply chain disruptions, our team's hard work and dedication made us overcome the situation by quickly developing and delivering bulk fragrances to domestic and international customers, allowing us to touch many lives.
P&F+: Describe yourself in three ingredients.
MA: The experience that envelopes me makes people think of me as a blend of various fragrance notes, akin to a complex compound. That's quite an honor for me! When it comes to scent language, my emotions are clear, my top notes are full of joy and freshness that resembles the evergreen mandarin; muguet (lily of the valley) in the middle for its strong and soft in nature qualities; and ambry in the bottom, which is stable and sturdy, doesn't fade easily.
P&F+: Any advice for people coming into the F&F industry?
MA: Perfumery and flavor creation are professions that require passion and patience, and cannot be confined to a standard 9-5, five-day work week. It is a job that demands a constant presence and a willingness to explore the bounds of one's creative imagination around the clock. For newcomers entering this field, my advice is to take the time to understand what fragrance means to you-yourself first, can you live without it? Memorize notes of different ingredients, by connecting them with anything which exists, experiment a lot, first by making new accords and building a story around it, and pursue this career path only if your key virtue is dedication and great enthusiasm. The world of perfumery is challenging and competitive, but if you love this from the heart, you will shine through your work.
P&F+: How has the job of a perfumer changed during your career?
MA: Over the past four decades, I have witnessed the fragrance industry in India and worldwide grow and evolve exponentially. When I first started, the nose and the library in your memory and lab were the main tools available, there was a lack of data on product performance and limited literature and equipment to evaluate and choose the ingredients.
Although the nose remains the ultimate, nowadays with the availability of advanced gadgets, GC and GCMS, research and development have become faster, and a wealth of data is available on product performance. However, the safety guidelines for creating fragrances are much more stringent, making it more challenging to be creative.
P&F+: Are the types of projects you're working on changing over time? How are the creative demands of the job evolving?
MA: The fragrance and flavor industry now requires high stability and performance in addition to keeping up with industry trends. Our primary focus now is to ride high on the new technology-driven fragrances and flavors to deliver an even better customer experience. With the revolution in the marketing, technology, and packaging of end products, we are working hard not only to maintain the pace with the change but to remain one step ahead. There is a complete shift due to generational change, especially in India which has 70% Gen Z with much better affordability and exposure, which changed the landscape 360 degrees. For food and nonfood grade FMCG products people have become more conscious about wellness, hygiene and health and expect products with functional benefits.
The availability of new molecules with high performance, and creative capabilities have increased. As our volumes have exponentially increased, we are able to allocate a larger budget for research and development to create captivating and innovative fragrances and flavors that elicit strong emotions and sensory experiences.