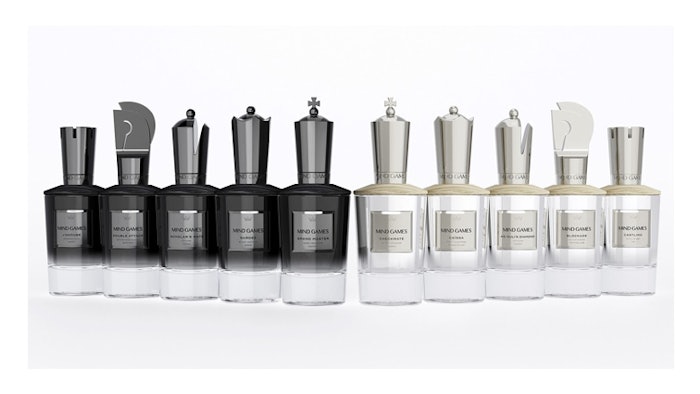 Retrieved PR Newswire
Neiman Marcus has launched a fragrance collection named Mind Games. The collection was created by Alex Shalbaf of The Fragrance Group and Christelle Laprade of Symrise.
Related: House of Bō x Neiman Marcus Announce Retail Partnership
The collection features 10 different scents for both dark and light fragrance wearers.
Dark:
Grand Master offers scent notes of black currant, rose water, pivoine, rose centifolia, vitessence, Kona coffee, wild violet, myrrh, incense, panettone and ebony wood.
Gardez offers scent notes of apricot, blackberry leaf, orris, jasmine sambac, rosewood, cassis, black leather, cedarwood and popcorn.
J'Adoube offers scent notes of rouge groseille di, mandarin oil Madagascar, right red pomegranate, damascene rose, Ambrostar*, benzoin vintage leather and patchouli oil from Sulawesi.
Double Attack offers scent notes of orange bitters, pimento oil, pink pepper Co2, agave flower, cinnamon Madagascar, geranium, dark chocolate, vanilla Madagascar, vetiver bourbon and Indian sandalwood.
Scholar's Mate offers scent notes of cardamom, bergamot, cinnamon leaf, grapefruit, orris, elemi, pimento, Indian sandalwood, fig milk, vetiver Madagascar and cypriol.
Light:
Checkmate offers scent notes of davana, champagne, rouge groseille di, rose de mai vitessence, rose bulgarian, magnolia, rose centifolia vitessence, tabac bourbon di, patchouli leaves and tree moss.
Caïssa offers scent notes of black licorice, pink peppercorn, cardamom, fougassette accord, tubeliane di, ylang-ylang from Madagascar, jasmine from Egypt, white gardenia, ambrocenide, cocoa bean and vegan musk.
Blockade offers scent notes of mango skin, pink pepper, tomato leaf, bergamot capua, lavender, mango flower, watery cyclamen, star anise, cuir velours di, patchouli, Ambrostar and oud.
Castling offers scent notes of fig leaves, bergamot capua, fleur del sel, iris, freesia, lotus flower, vanilla woods, skin musk, vetiver Madagascar and sandalwood East India.
As-Suli's Diamond offers scent notes of fig leaf, mandarin Madagascar, bergamot capua, ylang ylang Madagascar, broom flower, tonka bean, myrrh, opoponax, incense and amberwood.
Alex Shalbaf, founder of Mind Games, said, "The inspiration behind Mind Games is, first and foremost, a love and respect for artisanal fragrance making and the complexity of its process. In addition to the inherent uniqueness of our compositions and small-batch manufacturing process, we have prioritized sustainability in every aspect of production. We extensively research the ingredients we source and use in our blends, the environmental impact of how and when they are sourced, and how much is sourced at once. It is imperative that our methods and ingredients, along with the bottles and packaging, are sustainable. We are proud to say we have managed to create luxury products without a high environmental impact."
*Ambrostar is a Symrise captive ingredient
Want to know everything going on in flavor & fragrance? Sign up for P&F+'s newsletter. You can also follow along on Instagram and LinkedIn.