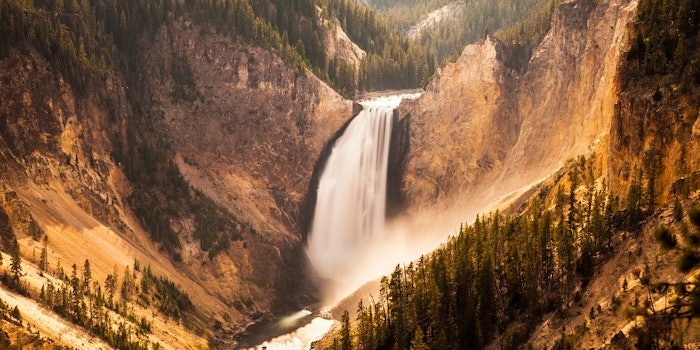 Mountain air and rare plant species were the muses for Caswell-Massey, Yellowstone Forever, and IFF's latest scent collaboration. Following over five years of development, the organizations have introduced the Living Floral collection, a set of fragrance tonics and moisturizing oils that were inspired by plant species at Yellowstone National Park.
Capturing the Essence of Nature
The Yellowstone Living Floral project started in 2014 when IFF received scientific research permits and started working with Yellowstone National Park botanists to study and preserve some of the rare plant species. Utilizing headspace technology, IFF was able to identify the scent signature of several of these species and then recreated them with nature identical scent molecules.
"In fragrance creation, there is a great respect for the gifts and wonder that nature provides, and we are committed to protect it while showcasing its treasured scents," said Nicolas Mirzayantz, divisional CEO scent, IFF. "With each of these fragrances, I believe our perfumers have captured some of this natural magic of Yellowstone—and the essence of one of the most breathtakingly impressive areas in the world."
A Whiff of the Great American West
With the scent signatures identified, the collaboration turned to beauty and fragrance company Caswell-Massey to help create the finished products. Launching in April 2019, the Yellowstone Living Florals collection will feature five scents in either a fragrance tonic or moisturizing oil. Each product takes its name from one of five landmark regions within the park and include:
Lake. Composed by IFF perfumer MacKenzie Reilly, the fresh scent includes notes of verbena, solar flower, lavender, amber and a hint of plant-based musk.
Canyon. Inspired by fresh mountain air and created by IFF VP perfumer Yves Cassar, this scent features notes of blue lupine, mountain forget-me-not, pine, juniper, cedar and moss.
Mammoth. This fresh citrus fragrance includes notes of sage, mountain hay grass, cedarwood, and earthy undertones. The scent was composed by IFF perfumer MacKenzie Reilly.
Tower Fall. Also created by IFF perfumer MacKenzie Reilly, this scent blends mineral notes with native aromatics and woods and features Living Rocky Mountain phlox, mountain forget-me-not, juniper, wild violet, cedar and amber
Old Faithful. Created by IFF senior perfume Laurent LeGuernec, the fragrance features notes of sagebrush, tree moss, birch and a strong smoky wood scent.
A portion of the collection proceeds will go to support Yellowstone Forever's mission of engagement. Additionally, Caswell-Massey and IFF will support educational programs within the park that educate visitors about rare and endangered plant species.
Related: IFF Rocks the Botanicals
"This collaboration has been nothing short of amazing for Caswell-Massey. It's one of the most remarkable projects our company has undertaken in our 267 year history; and as an American company driven by an intense curiosity for botanical formulations, this Yellowstone Living Floral Collection is a remarkable partnership that enables us to bring the incredible experience of the park directly to our customers," said Nick Arauz, Caswell-Massey president.