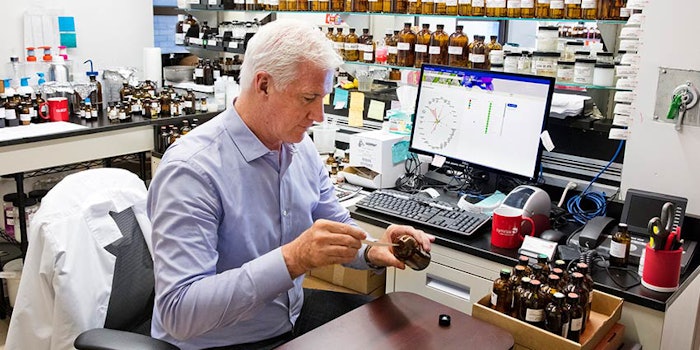 The future is here—and, thanks to a collaboration between Symrise and IBM Research, it's going to smell amazing.
The organizations have teamed up on an artificial intelligence (AI) system for designing new scents, internally named Philyra. The program, built for Symrise by IBM Research's AI for Product Composition technology, has been used to create two new fragrances for Brazilian cosmetics company O Boticario set to launch in 2019.
Symrise and IBM Research formed a multi-year collaboration exploring the application of AI to assist in creating new and innovative fragrances. IBM's research built on earlier computational creativity work used in the culinary field: theory-driven, using flavor pairing models and psychological models of olfactory pleasantness to identify recipes that would taste and smell good.
IBM took a data-driven approach, utilizing information about hundreds of thousands of fragrance formulas including data on the fragrance families, raw materials and history, as well as historical data on the success of previously designed perfumes and formulas.
"Artificial Intelligence is quite simply the next frontier of perfumery innovation and discovery. Watching it unfold, and helping to direct it, is a privilege and the most significant milestone in my career."
Philyra uses this mix of data and machine learning technologies to generate new combinations of fragrance formulations that fit the design goals. The components of the system specifically include algorithms that learn and predict alternative raw material complements and substitutes; appropriate dosage; novelty in comparison to a large set of commercially available fragrances; and the human response
The system learns a distance model to identify fragrances that are close in smell to existing fragrances; the larger the distance between a fragrance and its "neighbors," the more novel the perfume is predicted to be, occupying a "white space" in the fragrance world.
Symrise used the IBM Research system to design two new perfumes for O Boticario, targeting Brazilian millennials. The initial formulas were minimally tweaked by Symrise perfumer David Apel to emphasize certain notes and improve sillage.
Related: Symrise Presents Innovation at World Perfumery Congress 2018
"Perfumery is an ancient art. It moves slowly through history and can seem unchanged for centuries. But there are moments of historic significance that are undeniable," said Apel. "The last great explosion of innovation began in the late 19th century with the introduction of synthetic fragrance raw materials into the perfumer's pallet. That revolution is still the driving force behind most of the great perfumes of today. Artificial Intelligence is quite simply the next frontier of perfumery innovation and discovery. Watching it unfold, and helping to direct it, is a privilege and the most significant milestone in my career."
Achim Daub, president of Symrise scent and care, commented: "The art and science of designing a winning perfume has been something we at Symrise have been doing passionately for more than 200 years. Now, our perfumers can work with an AI apprentice by their side that can analyze thousands of formulas and historical data to identify patterns and predict novel combinations, helping to push the boundaries in perfumery, and accelerate the design process by guiding them toward formulas that have never been seen before."