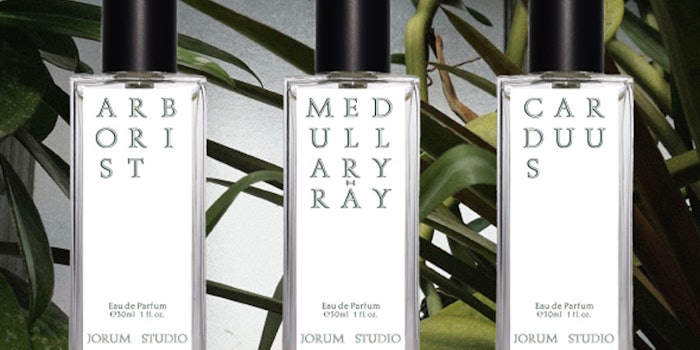 Scottish perfume house, Jorum Studio, was founded in 2010 by perfumers Euan McCall and Chloe Mullen.
Related: Spate: US Trends in Baby Botox, Oud Perfume and Sunscreen Mist
Each of the brand's fragrances are designed, developed and manufactured in-house.
Jorum Studio's premiere collection, Progressive Botany, consists of both manufactured and natural ingredients. Interview soon to come with Jorum Studio founders.
Progressive Botany eau de parfums include:
Arborist with top notes of quince, honey, saffron, Osmanthus absolute, magnolia and burdock. Base notes include papyrus, mugwort, rose absolute, tuberose, myrrh absolute, spruce resin, Douglas fir, labdanum, jatamansi, malt and lichen.
Medullary-ray with top notes of fig leaf, cardamom, olive, juniper and frankincense. Base notes include orris butter, rose absolute, pomegranate, myrrh, vetiver, guaicwood, papyrus, hay, birch, cedarwood, castoreum, valerian and sandalwood oil.
Cardus with top notes of chamomile, Bengal pepper, honey, clary sage, sea holly, marjoram tea, myrtle, rose absolute, vetch, clove bud and hart's tongue. Base notes include tuberose, musk thistle, heliotrope, tormentil, mahogany, cocoa absolute, tobacco, meum, deertongue and cherrywood.
Trimerous with top notes of carrot seed, bergamot, nectarine, thyme, cicely, pink pepper, juniper, cloudberry and angelica root. Base notes include orris butter, kombucha, centaury, suede, oud, musk, ambergris, styrax, vanilla and incense.
Phloem with top notes of passion fruit, rhubarb, mulberry, nasturtium, honeysuckle, blueberry, camellia and oysterplant. Base notes include meadowsweet, gorse, ambrette, sesame, amyris and tonka bean absolute.
Nectary with top notes of bramble, cranberry, peach and rose absolute. Base notes include oud, ambergris, roseroot, olibanum, selfheal, castoreum, civet, labdanum absolute and musk.
The brand's second collection, Selective Memory, consists of both fine raw and synthetic materials. Jorum Studio coined the term olfacticality, describing the selective memory in both scent terms, as well as physical, tangible qualities.
Selective Memory eau de parfums include:
Pentimento with top notes of tiaré, orchid, hazelnut and broom absolute. Base notes include carob absolute, tobacco flower, vanilla, rum absolute and tonka bean absolute. Olfacticality includes velveteen, soft-touch, humid, coated, layered and ashen.
Fantosmia with top notes of black pepper, annatto, cardamom, pimento, fennel and sisho leaf. Base notes include mate, cascarilla, nutmeg, aetoxylon, castoreum, saffron and tobacco. Olfacticality includes sculptural, diffusive, ink-stained, granular, cold-touch, mercurial, blurred and obsidian.
Athenaeum with tops notes of Scottish lavender, beeswax, fennel, apple and honey. Base notes include neroli oil, hyacinth, flouve, patchouli, Moroccan leather, Gurjun balsam, oak and ink. Olfacticality includes knurled, waxen, smudged, puply, sun-warmed and hazy.
Elegy, an extrait de parfum, has top notes of bergamot, lavender, honeysuckle, petitgrain and health absolute. Base notes include jasmine absolute, orange flower absolute, rose absolute, geranium bourbon, ambrette seed, benzoin, cedar absolute, patchouli absolute, hay absolute, oakmoss absolute, labdanum absolute and oud.
Want to know everything going on in flavor & fragrance? Sign up for P&F+'s newsletter. You can also follow along on Instagram and LinkedIn.