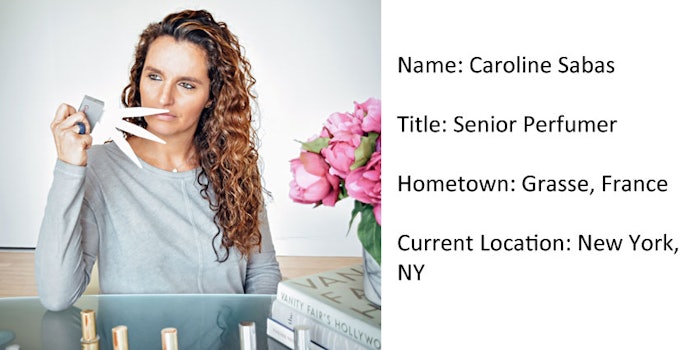 Perfumer & Flavorist+: What led you to the fragrance industry?
Caroline Sabas [CS]: I was raised in Grasse, the capital of perfumery. The heady aromas wafting from the fields were a daily part of my childhood; it's amazing to think that I was constantly surrounded by jasmine, rose and honeysuckle, to name a few. I miss those chilly days when we went picking branches of mimosa in the forest of Tanneron, filling the house with them—the absolute best, most intoxicating, gorgeous, fluffy scent. It was pure happiness.
I fell in love with fragrance as a teenager, when I first stepped into a perfumer's lab—I knew immediately that I wanted to be a perfumer. It was like being a chef or a painter, taking all of these different, beautiful materials and coming up with your own recipe, your own creation.
P&F+: What applications do you primarily formulate for? Do you have a favorite?
CS: I mostly work on fine fragrances. However, as the market evolves, it's become more common to develop fragrances across all categories. After developing a perfume that is meant to be sprayed on someone's neck, we then often translate it into different bases, such as body lotions, shower gels, body scrubs, candles, but fine fragrance remains my favorite.
P&F+: Are there any recent projects/wins you're particularly proud of?
CS: This is a tricky question for me, I'm always so honored the moment I realize a client has selected my fragrance at the end of a project. It's hard to favor one fragrance over another. With that said, if I have to choose among some of my recent creations, I am very proud to have crafted Oud Musc by Narciso Rodriguez and You or Someone Like You by Etat Libre d'Orange.
Oud Musc is the result of what I dreamt about creating as a young perfumer. A sensual and mysterious fragrance built with resins, amber, oud and musk. Plus, I find the bottle absolutely divine.
You or Someone Like You is a novel written by Chandler Burr. Chandler and I worked together to create a fragrance that the heroine, Anne, would wear. He wanted to capture the overall effect, something conceptual, rather than focusing on the ingredients or raw materials. It felt odd at first, but the process was unusual in its approach and a lot of fun.
P&F+: Where do you find inspiration?
CS: I'm an emotional and passionate person, which helps me to create multiple fragrances at a time, wherever I am. Music, food, nature, colors, the wind, the rain, the beach—they all inspire me deeply and bring me happiness.
P&F+: Describe yourself in three ingredients
CS: Amber. Coconut. Mimosa.
P&F+: Do you have any favorite ingredients to work with? Why?
CS: Vetiver has been one of my favorite ingredients since I first smelled it. A few years ago, I rediscovered it all over again when I visited Haiti, where it grows. It has, and always will, hold a very special place in my heart.
Ambrettolide is my favorite musk. I use it everywhere. My perception of it is musky, clean, animalic, leathery, orris-like. It is very sensual, almost like a clean sweat or clean sexiness.
Salicylate smells like sandy skin on a sunny beach.
And, of course, amber. When I became a perfumer, I had a strong emotional connection to amber, and it was all I wanted to create with. Something mysterious, resinous, sensual, dark, with a touch of masculinity.
For the full article, please check out the Perfumer & Flavorist+ December 2021 issue.