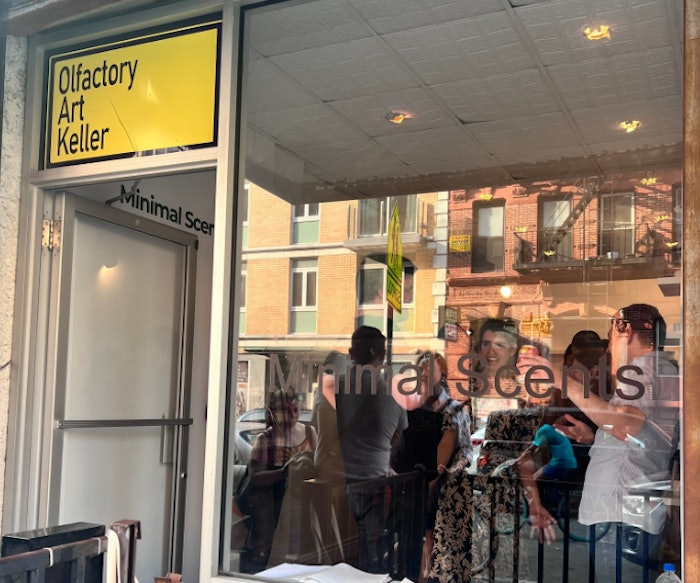 courtesy
Olfactory Art Keller has opened its Minimal Scents exhibit in New York, which showcases 20 different approaches to the seemingly intractable problem of stripping the adornments off smells.
The works on display have little in common, with some aiming for conceptual minimalism and others for minimalist phenomenology.
The exhibit is open until Saturday, July 29, 2023.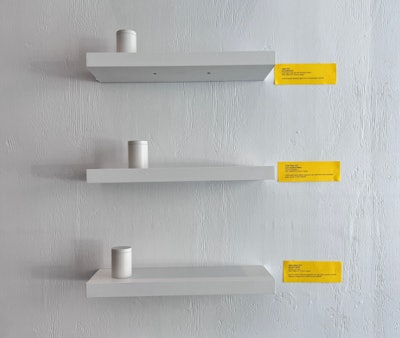 Presentations: 
Jonah Simonak's "Unscented Candle" is the experience of a scented candle, aromatically stripped of the typical signifiers that make candles "scented."
Aliaksandra Basalayeva strips a scent of its definitive form, giving the smeller the freedom to create their own experience with her "Chameleon."
Hannah Marcus and Margaux Le Paih Guerin both created works that reveal and pervert the idea of figure-ground-segregation in olfaction. Marcus' "Ambient Scent 25A/25B" mimics the ambient smell of its environment, the Olfactory Art Keller exhibition space, thereby retreating into the olfactory background, like a white canvas on a white wall. Le Paih Guerin's "Olfa Meta 3" similarly turns the background into the figure, turning the traditional accord structure of perfumes upside-down.
Maxwell Williams' "Tor" is composed of methyl benzoate and piperonal, two molecules commonly used to train drug-sniffing dogs to detect cocaine and MDMA respectively.
agustine zegers' "plasti-pileus," part of their continued engagement with speculative scenarios of climate disasters in olfactive form, consists of three materials.
"Green Pillar" by Dawn Spencer Hurwitz is a hard-edged tactile olfactory experience, like a solid wall of pure translucent green.
David Bernstein used a deliberately restrictive palette of found-source materials for his "salad," a blend of three single-origin olive oils.
George Tedder's "Unfrilled" uses few materials of extreme strength to produce a scent that is strong and long-lasting even in small amounts at high dilution.    
Earth is represented by Stefan Kehl's "The Soil," an experiment in reduction that points clearly and directly to the essential.
Shahira Hammad's "ARD" represents a slow descent into the earth.
Ksandra Osinina's "Water" is the perfumed image of the wet and cold element.
Adam Forziati's "I Am From It" combines the two cold elements, water and air, imagining them in their purest form.
Emily Voth's "Cade Black 9" distills fire's essence and inimitable power into a few select ingredients.
Eli Diez uncovered the essence of the most beautiful flowers in their most rotten appearance in their "putre-factio."
Joey Rosin's "2%" recreates the perception of a cold glass of milk on a hot summer day.
Tennessee MacDougall's "Tar Snakes" features the scent of hot tar being poured into the holes and cracks of a damaged road.
David Falsberg's "Current Wave" is an animalic soliflore with aged gray Irish ambergris as the flower of the hour that explore the materials unchained essence, woodsy notes, and molecular headspace.
Jordan Robin's "Idem Ink" enhances oakmoss without stripping it of its raw power.
"Tears of the Moon Princess" by Michael Nordstrand expresses and exalts the essence of the flowers of the Osmanthus tree.
Olfactory Art Keller is located at 25A Henry Street, New York, NY, 10075.