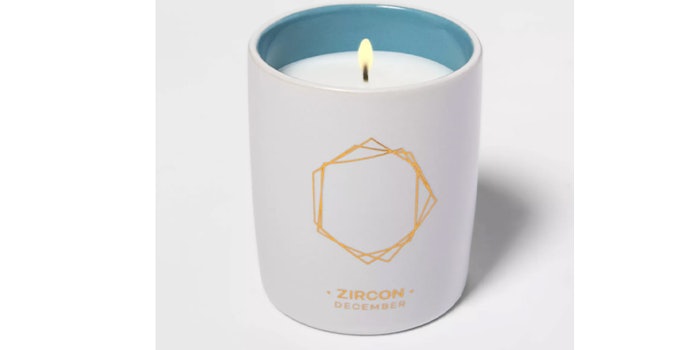 Target has rolled out its Birthstone Ceramic Jar Candle, a collection of candles from Project 62.
Related: Bath & Body Works' Holiday Candle Lineup
There are twelve candles, one for each month, and the notes include:
January's Garnet: bergamot, grass, jasmine, clove and patchouli
Feburary's Amethyst: mandarian, raspberry, apricot, violet and jasmine
March's Aquamarine: rose, lily, bamboo and melon
April's Diamond: herb, jasmine, orange blossom, woodys and fruit
May's Emerald: bergamot, sage, eucalyptus, apple and mint
June's Pearl: fresh, lily, violet and orange
July's Ruby: fig, lily, rose, cinnamon and apple
August's Peridot: fresh, jasmine, geranium and woods
September's Saphire: citrus, bergamot, chamomile, sage and floral
October's Tourmaline: floral, musk, spruce, citrus and grass
November's Citrine: pineapple, apple, lemon, coconut and jasmine
December's Zircon: fruit, floral, gardenia and citrus
The candles are created with palm oil and paraffin wax with a burn time of 40 hours. It retails at $7.99 each.