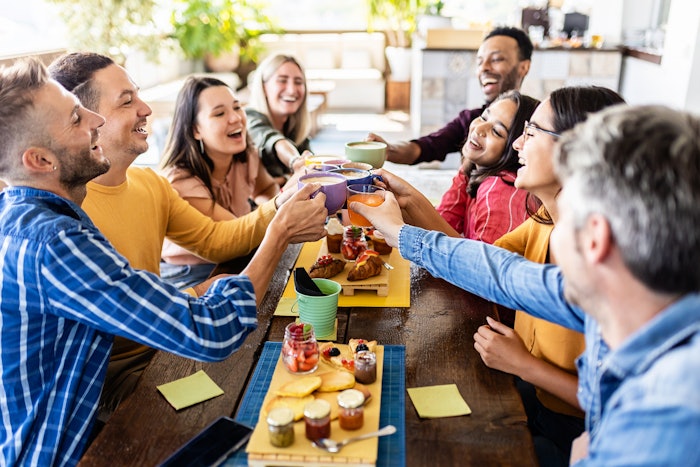 courtesy of FlavorSum
FlavorSum has released its 2024 flavor trend predictions for the food and beverage space in a two-part blog series. 
Part One: Cultural and Behavioral Changes Affecting Innovation
Part 1 of the series is said to examine people's changing expectations about food and beverage brands. FlavorSum's food and beverage predictions share the broad themes happening across the food and beverage landscape, including:
Getting Fuel and Fun from Foods & Beverages
Balancing Priorities with Food Choices
Finding Solutions to Optimize Daily Living
Demanding Genuineness from Brands
Part Two: Flavors that Captivate and Connect
In Part 2 of the FlavorSum 2024 predictions series, the insights team highlights ways flavors can amplify the success of food and beverage innovations. FlavorSum's 2024 flavor predictions examine flavors that can captivate and connect with people as they look for foods and beverages that:
Energize Me (but Hold the Jitters): According to trend-watcher Tastewise, social discussions around "energize" increased 41% in the past year. Tastes of the tropics vary, but when showcased alone or combined with other tropical or citrus notes, they deliver a bright, sweet-tart zing that supports alertness and energy. And many options within the tropical fruit flavor family provide some natural masking of energy or protein ingredients. FlavorSum expects more energizing launches featuring flavors like pineapple passionfruit, mango combinations, dragonfruit and papaya.
Refresh Me: More than 70% of North Americans name hydrating beverages their #1 choice for rejuvenating or invigorating their bodies.
Delight Me: Delight is often synonymous with indulgence, and we expect complex flavor and texture combinations will continue to play a role in 2024. Creativity will drive the 'delight' food and beverage trend, leading to experiences such as lemon-lime paired with white chocolate in sweet baked goods, hot honey combined with butter toffee in snacks and cookie butter flavor topped with white chocolate in novelties
Help Me Make Memories: Although any flavor linked to an event or setting can support memory-making, the FlavorSum team predicts growth in stone fruit flavors like peach, blackberry, nectarine, tart cherry and lychee.