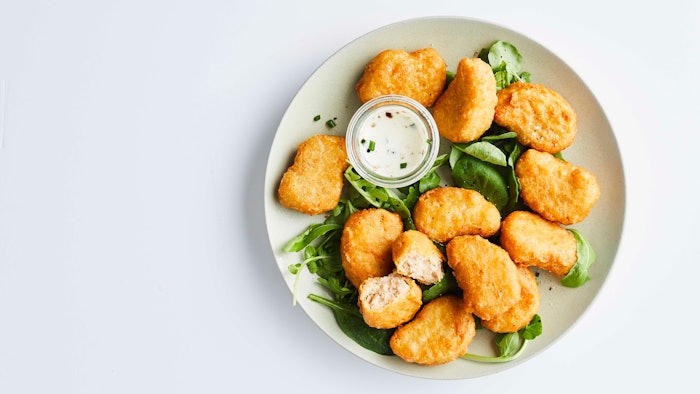 C/O KERRY
Plant-based formulation continues to make significant progress in both taste and in texture over the years. Thanks to new technology and innovation, this market has seen continued growth. But what is the market up to lately? What are the current consumer demands, and how are they shaping formulation?
Perfumer & Flavorist+ connected with Chris Horridge, RD&A director at Kerry in North America, to discuss the latest innovation in the plant-based sector. Want to learn more about plant-based formulation? Be sure to get your ticket to Flavorcon 2022 to Rajesh Potineni's session, "Taste Optimization in Plant-Based Food and Beverages." Register ASAP to secure the best rates! 
Can you touch on some of the latest consumer trends regarding plant-based products? How is that influencing formulation?
Chris Horridge [CH]: Consumers are more focused on making better food choices, aiming for products that benefit their overall health and that are sustainable for the planet. Increased consumer demand has helped propel plant-based industry innovations into new categories that may have seen slower adoption. 'Health' and 'Nutrition' continue to outrank other purchase drivers for plant-based food and we see that today's consumer has adopted a more holistic approach to personal health. Their acceptance of various food trends and an active physical lifestyle has ultimately led to more mindful food and beverage choices. In the search for a simplified and convenient solution for a 'better-for-you' lifestyle, more consumers are incorporating plant-based food into their diets. Plant-based food provides easy and accessible solutions to eating healthy without demanding drastic dietary changes. 
Consumers want the positive benefits of a vegetable-enriched diet without giving up the taste, texture, and protein levels of traditional meat and dairy products. Creating plant-based products that address key health and nutrition goals will further entice consumers to the category. Regardless of the final application, formulating to meet the taste, texture, performance, and nutritional expectations while maintaining a clean label is challenging for most companies innovating within the plant-based meat category. As consumers' expectations continue to evolve, strategies to continuously improve product attributes, deliver on taste, optimize nutrition, deliver simple and trusted labels, while providing a characteristic meat-eating experience, will be imperative to success in this rapidly growing category.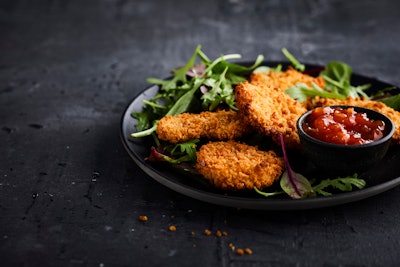 What are some of the recently debuted technologies for plant-based formulations?
CH: Plant-based is a fascinating place to be at the moment, there is a lot of exciting innovation going on. A lot of this activity is being targeted at getting closer to whole muscle-type products. High moisture extrusion or technologies that have been around for years are still the go-to technologies today. What is interesting is we are seeing start-ups showcase a new twist on those processes, a different order of addition that have taken them a step closer to whole muscle products, but we still have a way to go. Meanwhile, from an ingredient perspective, the extraction of protein is increasingly coming from novel ingredients.
What have been some of the most prevalent challenges for formulating plant-based and/or better-for-you products? 
CH: Taste trumps everything in plant-based products trying to mimic meat. Taste is inextricably linked to the value someone may hold in a product and therefore impacts cost, the other key driver. Taste is also built on texture which could be seen as the vehicle for delivering taste. Get the texture wrong and a product trying to mimic meat just doesn't deliver, no matter how good the taste. One other key consideration is the visual aspect - after all, we eat with our eyes. The most prevalent challenge is balancing taste, texture and visual aspects and packaging it all up in a cost-effective product that consumers love.
From your perspective what does the future of plant-based look like?
CH: As more consumers incorporate plant-based meat alternatives into their lifestyles, the opportunities are endless for the category. Although burger patties are the most widely available plant-based meat alternatives, consumer interest is high for expanded formats. Innovation at Kerry continues to evolve into new plant-based categories that are not currently widely available in stores or restaurants today. This creates new formulation challenges but also opportunities for new ingredient solutions to solve for new taste, texture, performance, and nutrition issues with these new products. Ensuring the right mix of ingredients, technologies, and techniques is key in formulating the next winning plant-based meat alternative and it is formulation and technical expertise that can steer the next plant-based solutions to the finish line.
Want to know everything going on in flavor & fragrance? Sign up for P&F+'s newsletter. You can also follow along on Instagram and LinkedIn.