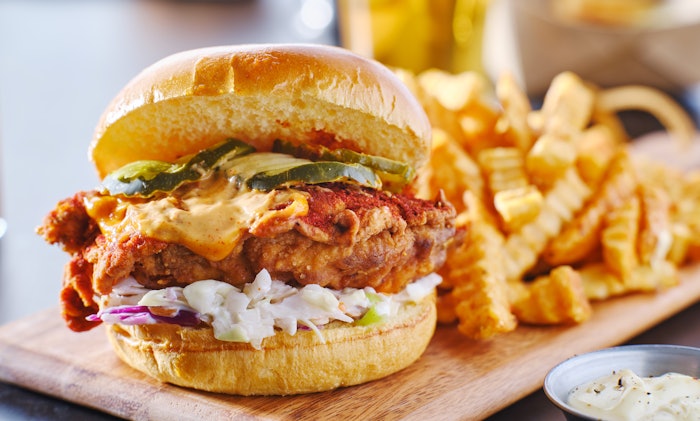 DREAMSTIME
T. Hasegawa has released a flavor trends report detailing the growth of regional and international trending flavors and ingredients.
Related: T. Hasegawa USA Flavor Trend Report: Snacks
Highlights of the report include:
Regionalization cues authenticity and adventure:
The lingering impact of the pandemic has consumers even more hungry for flavor exploration that can work for both familiar and lesser-known cuisines. Peppering in regional ingredients can revitalize mainstreamed global cuisines while elevating authenticity and value.
Younger consumers seek flavor trials across different food and beverage formats:
In exploration, older consumers seek small tastes: appetizers still top the list of preferred foods to try new cuisines. Younger consumers, on the other hand, show signs of being more exploratory with interest in flavor trials across multiple foods/drinks.
Mainstream cuisines remain strong, yet slip to the next wave:
Mainstream cuisines show signs of nearing the point of a needed refresh to remain "competitive" with emerging cuisines. The past year saw many popular cuisines like Chinese or Italian lose a sliver of traction. A few, less familiar yet emerging cuisines made gains, like Korean and African. Mexican cuisine remains a dominant, popular and growing force at more than 70% participation and picking up 2% gains year over year.
Regional authenticity takes on even more importance:
Consumers crave the experiences that international flavors and ingredients provide. More than a third of consumers believe international cuisines help them experience different cultures and taste better when they are authentic.
Seventy percent of consumers are interested in eating South American cuisine:
Regionality knows no boundaries and the ongoing social media buzziness of the LSR chicken sandwich battle has lent to the rise of Nashville Hot—beyond chicken. The popularity is not surprising. Nashville Hot ticks a lot of boxes for consumers: trendy, hot and spicy, and Instagrammable.
Three in 10 consumers are inspired to try new flavors from television shows:
Media of all kinds is predictably a powerful and tangible place to cultivate cuisine exploration. Brand connections with K-pop culture inspire cuisine growth and South Korea is trending, driven by an ongoing pop-culture blitz.
While older adults are most likely to seek out new flavors with appetizers, millennials and Gen Zs are open to new flavor trials across a number of forms—both food and drink, sweet and savory and perhaps even a little of both.
Regional international cuisine could benefit from ties to its known "parent" cuisine:
Building product and cuisine trust by association is a logical benefit for regionalization. For example, Chinese is one of the most consumed cuisines overall, and subregional Cantonese has significant trials but still with interest or room to build awareness. Piedmont, a regional Italian cuisine, currently falls short of its sibling in Southern Italian in actual trial and awareness, while interest is salient.
Want to know everything going on in flavor & fragrance? Sign up for P&F+'s newsletter. You can also follow along on Instagram and LinkedIn.