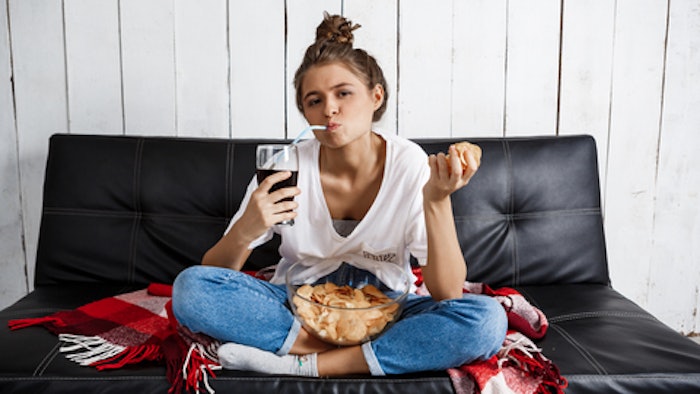 dreamstime
T. Hasegawa USA has released a flavor trend report detailing current popular tastes and ingredients in snacks.
Related: T. Hasegawa USA Names Director of Savory Technology
Anna Fabbri, Flavor and Ingredient Trends analyst, said, "Shifted routines and added daily stresses brought on by the pandemic caused many to seek snacks as a source of comfort, resulting in boosted sales in recent years. To maintain momentum, brands will need to keep ties to the familiar, while also addressing consumer shifts surrounding reemerging health priorities, interest in ethical claims and cravings for adventure."
Highlights of the report include:
Almost half of consumers (47%) enjoy snacks that are a twist on the familiar.
More than two in five consumers are seeking more snacks with functional benefits. However, flavor is the most important attribute for consumers when choosing a snack.
While the majority of consumers are interested in snack flavors from well-established international cuisines, awareness of authentic international ingredients remains relatively niche. Utilize clear terminology and draw analogies to familiar flavors to boost awareness and encourage ingredient trial.
Formulating with ingredients associated with wellness will attract the growing health-conscious consumer base. While health is growing in importance, the majority of consumers indicate that flavor trumps health-related attributes when it comes to snacks. Pairing familiar flavors, like cheese, with alternative snack bases will help to ensure that the snack delivers on consumers' favorite flavors and contributes toward their health goals.
Parents significantly overindex in the consumption of meat snacks, alternative salty snacks (e.g. chips/puffs made from vegetables) and filled pretzels (e.g. peanut butter filled). These snack types offer convenience, function and enjoyment to help fuel busy parents throughout their day.
When examining consumers' salty snack consumption, well-established salty snacks (e.g. cheese-flavored snacks, corn snacks, pretzels, popcorn) still top the charts.
While cheese flavors like cheddar have long been popular within the snacking category, specialty cheeses are beginning to become mainstream with consumers.
Many brands have integrated a fan favorite flavor—everything bagel—to elevate healthier snack bases.
Younger consumers lead consumer interest in many extreme flavor profiles. Hot pepper challenges, which consist of consumers filming themselves eating chili peppers rated high on the Scoville scale, have been trending on social media, highlighting consumers' excitement around bold, daring flavors. 60% of Gen Zs and 67% of Millennials have either tried and liked or would like to try chile lime, demonstrating opportunity for both trial and long-term adoption.
Mexican cuisine represents the top international cuisine consumers are interested in trying as a snack flavor, particularly elote-flavored snacks. Elote, or Mexican street corn, consists of grilled corn smothered in a creamy mayo sauce, then sprinkled with cotija cheese, lime juice, chile powder and cilantro.
Specific ingredients popular in Japanese street food have also been emerging, like sesame, miso and nori. Incorporating authentic Japanese essences into snack foods will allow consumers to enjoy some of their favorite international flavors within their home. Snacks inspired by street food from emerging cuisines, like South African biltong, are popping up in new product launches too.
More than two in five consumers of popped potato chips are interested in Japanese cuisine snacks. Popped potato chips have connotations with being lighter and healthier snack options, which is in line with the reputation of traditional Japanese dietary habits.
The pandemic has piqued consumer interest in health and immunity, and immune-boosting foods can entice health-conscious consumers, especially Millennials. 54% of Millennials want more snacks with functional benefits, and 41% of consumers are interested in a snack innovation that supports gut health.
Pandemic circumstances have caused consumers to feel less in control of many aspects of their life. Familiarity has a strong pull on consumers and more than half are interested in flavors inspired by other foods, indicating a trend focused on trustworthy flavor combinations.
Want to know everything going on in flavor & fragrance? Sign up for P&F+'s newsletter. You can also follow along on Instagram and LinkedIn.