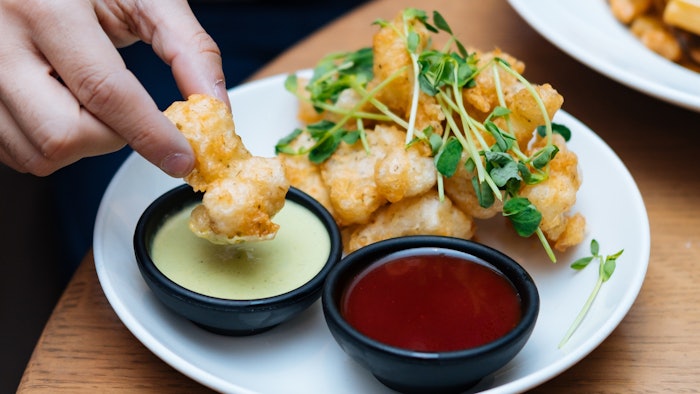 T. Hasegawa has released a flavor trend report detailing recent consumer tendencies in the dips and sauces market.
Related: T. Hasegawa Releases Alcoholic Beverage Trend Report
Anna Fabbri, flavor and ingredient trends analyst, said, "Consumer interest and engagement in the dip and sauce category is strong and was heightened by the pandemic. Though an uncertain economy threatens to stunt growth, dips and sauces can be positioned as a relatively inexpensive solution to add quality flavors to everyday dishes."
Highlights of the report include:
Dips and sauces encourage approachable international flavor trial: While the biggest interest comes from international fare that is already popular, dips and sauces offer a more customized, approachable form of trial since consumers can request sauce on the side and control the quantity sampled.
Put flavor at the forefront of BFY dips and sauces: Better-for-you options are becoming a growing presence in the dips and sauces category, and on-trend ingredients that are rich in nutrition and flavor, such as alliums or lemon pepper, are poised for growth in new product launches.
Flavor opportunities in dips and sauces: Operators can elevate the traditional by combining emerging flavors into established dips and sauces or even combining established sauces to create an unconventional-yet-delicious pairing
Inflation concerns can elevate the dips and sauces category: With the reality of U.S. inflation in 2022, consumers are gravitating toward budget-friendly shelf-stable items. Dips and sauces can be positioned as restaurant-like flavor enhancers that spice-up meals without breaking the bank.
Restaurants are the pathway to dip and sauce flavor trial: Restaurants are often the catalyst for new flavor trends, so the introduction to compelling dips and sauce flavors in food service influences consumer tastes in all other categories.
Demand for plant-based dips is booming: Cashew has grown directionally as an ingredient within plant-based dip and sauce launches since they offer a creamy texture that mimics dairy-based dips.
Growth of dips as an everyday snack: Table sauces, cooking sauces, and CPG oils have remained strong in recent years, despite covid-related labor and material challenges. The pandemic influenced at-home eating occasions and dips emerged as a way to add convenient flavor solutions into the routines of consumers who are facing cooking burnout.
Spicy flavors spike on foodservice menus: "Spicy" has grown 20% as a sauce flavor over the last four years, as heat-packing ingredients like jalapeno, chipotle, ghost pepper, poblano and chili pepper have grown directionally.
Want to know everything going on in flavor & fragrance? Sign up for P&F+'s newsletter. You can also follow along on Instagram and LinkedIn.