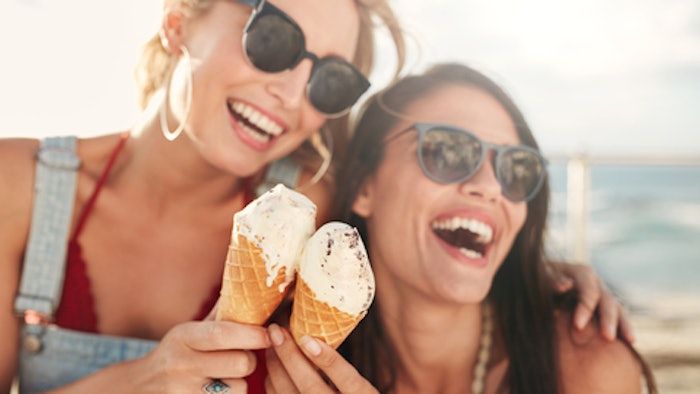 Dreamstime
A report by Fortune Business Insights states that the global confectionery market is projected to grow from $194.37 billion in 2021 to $242.53 billion in 2028 at a CAGR of 3.8% in forecast period.
Related: See What's Trending in Recent Flavor Reports
Here are some recent confectionery launches to hit shelves this summer:
Grammy-winning electronic music producer and artist Zedd has collaborated with ice cream brand N!ck's for a limited-edition flavor. Chilly Mango offers a cooling mango base, a chili kick and a strawberry puree swirl.
Jeni's Splendid Ice Cream has launched a new line of flavors in time for summer, included in the At The Pool collection. The flavors include:
Butterscotch Popcorn, a sun-popped popcorn ice cream with a butterscotch crunch.
Bombastix Sundae Cone, double vanilla ice cream with fudge and chocolate-covered waffle cone chunks.
Watermelon Taffy, creamy, tart candied watermelon-flavored ice cream.
Golden Nectar, with notes of nectar, vanilla and clove with cracked caramel pieces.
Dairy Free Lemon Bar, lemon curd, shortbread crust and coconut cream.
Tyler Malek of Salt & Straw collaborated with perfumery brand Imaginary Authors to launch a trio of ice cream perfumes. The scents are meant to be used by creating a "dome of aroma" around the ice cream, letting the scent sink in before digging into the dessert.
Carvel has twisted two of its classic flavors to create Brookie. The flavors include:
Brookie Soft Serve Ice Cream: Fudgy brownie batter soft serve swirled together with chocolate chip cookie dough soft serve.
Brookie Scooped Ice Cream: Brownie batter and chocolate chip cookie dough ice cream with cookie dough pieces, brownie bites and chocolate chips.
Brookie Dasher: Layers of Brookie soft serve, caramel, brownie bites, hot fudge and chocolate chip cookie dough pieces. Topped with whipped cream and chocolate chips.
Brookie Flying Saucer: Brookie soft serve sandwiched between two Flying Saucer chocolate wafers.
The No Sugar Company has launched a natural energy, naturally caffeinated, plant-based energy drink company called Joyburst in a Vanilla ice flavor.
Starburst has released Starburst Airs Gummies, an aerated gummi candy that features an inflated and squishy texture, available in the original flavors, including strawberry, lemon, orange and cherry and Sour Tropical.

Want to know everything going on in flavor & fragrance? Sign up for P&F+'s newsletter. You can also follow along on Instagram and LinkedIn.