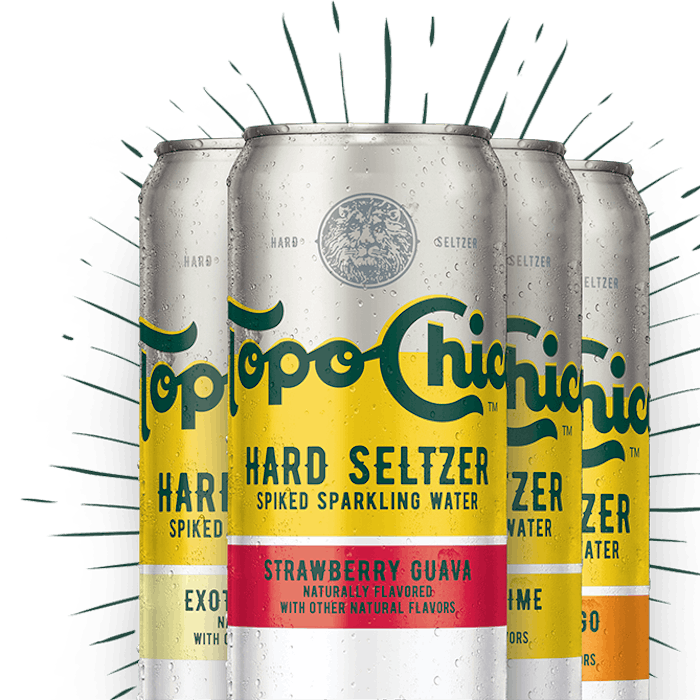 Data from Grand View Research projects the global sparkling water market to grow at a 12.6% CAGR through 2028 and the natural/mineral water segment held the largest market share (60%) in 2020.
With a booming industry focused on hard seltzers and natural mineral water, here are the latest launches in seltzer/sparkling water, including news from Bud Light, Topo Chico and White Claw.
Related: Latest Spring Flavor Launches
Shimmerwood Beverages added the Chai Cherry flavor to its full-spectrum CBD seltzer offerings. The flavor was created with chaga mushrooms blended with warm chai and the woody flavor created from cherry bitters. It also contains hemp-derived cannabidiol.
White Claw Hard Seltzer added the Passion Fruit flavor, which blends passion fruit with a hint of sweetness. All White Claw seltzers are made from a blend of seltzer water, gluten-free alcohol base and a hint of fruit flavor.
LaCroix's latest flavor, Cherry Blossom, will be launching in major retail stores in March 2022. Offering a botanical taste that blends sweetness and tartness, the sparkling water contains no calories, sugars or other sweeteners, sodium or artificial ingredients and the aluminum cans are BPA-free.
Anheuser-Busch added the Mango flavor to its Nütrl Vodka Seltzer collection. Nütrl is a spirits-based seltzer made from vodka, seltzer and real fruit juice, with the latest flavor made with real mango juice. The flavor joins the already established Pineapple, Watermelon and Raspberry flavors.
Topo Chico Hard Seltzer added a Ranch Water flavor based on the popular cocktail recipe that features real lime juice, tequila flavor and added minerals for taste. The launch adds to the already established Strawberry Guava, Exotic Pineapple, Tangy Lemon Lime and Tropical Mango flavors.
Bud Light added two flavors to its seltzer variety, Bud Light Seltzer Sour and Bud Light Seltzer Hard Soda. The Bud Light Seltzer Sour is a limited-time offering, but the Bud Light Seltzer Hard Soda is a permanent addition to the line-up.
The new flavors in the Bud Light Seltzer Sour pack include Watermelon, Blue Raspberry, Lemon and Green Apple, featuring an initial sweet taste followed by sour. The flavors include Classic Cola, Cherry Cola, Orange Soda and Citrus Soda.
Strongwater launched Sparkling Mixers that can be used in cocktails to enhance the flavor. The mixers use water from the Rocky Mountains carbonated at high altitude for champagne-sized bubbles. The launch includes Orange Blossom Tonic, Signature Tonic, Ginger Beer and Club Soda. The mixers are available individually in 12-packs or as a sample collection with three cans of each flavor.
Orange Blossom Tonic was created with tangerine and orange blossom botanicals.
The Signature Tonic uses Nordic-inspired botanicals, including citrus, makrut lime, lemongrass, sage and dill.
Ginger Beer is made with sweet and spicy ginger root.
Club Soda is a blend of natural mountain minerals for a balanced flavor.
Want to know everything going on in flavor & fragrance? Sign up for P&F+'s newsletter. You can also follow along on Instagram and LinkedIn.