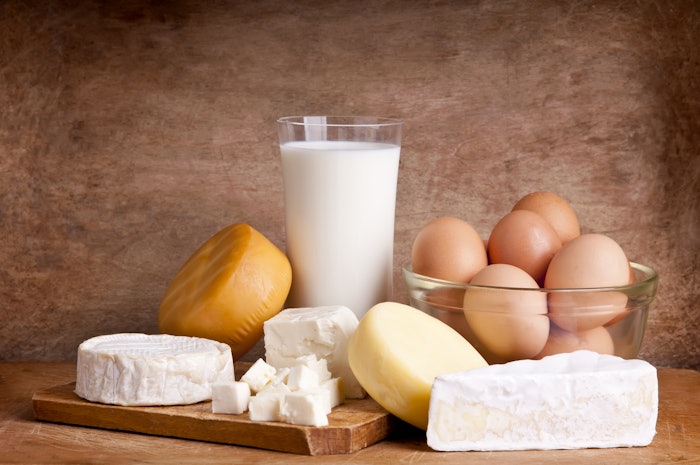 T. Hasegawa has released a report detailing dairy trends in flavors and ingredients. According to the report over a third of consumers purchase both dairy and non-dairy products. These dual dairy-type users are the most likely to go out of their way to try new flavors, making them the target market for dairy products that feature unique flavors. 
Related: T. Hasegawa Introduces Emulsitract
Key takeaways include:
-While the pandemic accelerated dairy product sales, the increase in sales is expected to be fleeting and drop back down to pre-pandemic levels. Flavor innovation can be these stagnant categories' saving grace and keep customers engaged.
-Dual dairy-type consumers represent a key consumer segment for both dairy and dairy-alternative brands.
-Flexibility to appeal to both the new demands of Gen Z flavor preferences and Baby Boomer traditional preferences will be important.
-With 25% of consumers interested in trying new co-branded dairy products and 29% of Millennials making specialty coffee drinks at home, the "barista blend" plant-based creamers (non-dairy creamers that perform well in specialty coffee applications) are in demand.
-The increase in at-home cooking suggests new opportunities for simple, flavorful meal add-ins/toppers such as condiments, finishing sauces, flavored oils and flavored butters.
-Alcohol flavors in cheese products are on the rise, with mezcal being one of the fastest-growing spirit types.
-Dual dairy-type consumers are significantly more likely than other consumer groups to consume vanilla and almond-flavored dairy and dairy-alternative products.
-The Gen Z audience prefers sweeter flavors, while Millennials prefer nut and fruit flavors.
-Consumers generally want yogurt to feature familiar fruit flavors such as blackberry or lemon.
-Cream cheese and cheese dip brands should consider exploring new herbal flavors and combined vegetable-flavored products.
-An estimated 36% of consumers are interested in trying smoked-flavored natural cheeses.
Caleb Bryant, associate director of Food and Drink Reports, said, "Innovation is necessary for dairy categories to remain relevant, as consumers increasingly purchase both dairy and dairy-alternative products. Develop products that provide consumers with unique dairy flavor experiences and incorporate ingredients that enhance dairy's functional benefits. Spicy cheeses featuring unique chilies appeal to Gen Z's love of heat and provide older consumers with unique twists on familiar ingredients while also promoting dairy products' clean ingredient labels."
Want to know everything going on in flavor & fragrance? Sign up for P&F+'s newsletter. You can also follow along on Instagram and LinkedIn.