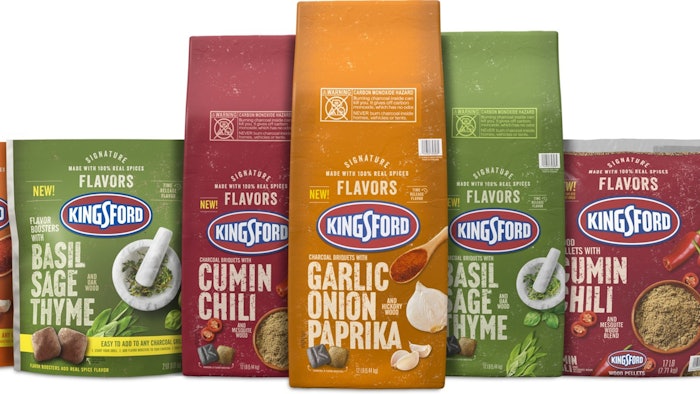 Kingsford introduced a line of flavor boosters for use on charcoal and pellet grills. Kingsford Signature Flavors, made from 100% real spices, include Garlic Onion Paprika, Basil Sage Thyme and Cumin Chili.
Related: Hellmann's Adds Flavors to Drizzle Sauce Line
Kingsford Signature Flavors are available at retailers nationwide in a variety of sizes from two to 17 lbs. The spices come in either charcoal briquets or pellets that are pre-mixed with flavor boosters that gradually release flavor.
Garlic Onion Paprika is a savory, caramelized flavor with a base of garlic paired with notes of onion and paprika. Basil Sage Thyme is a smooth, balanced flavor with a peppery blend of basil, sage and thyme. Cumin Chili is a bold, smoky flavor built with a base of cumin and a spicy note of chili heat.
Ram Gopalakrishnan, marketing director at Kingsford, said in a press release, "We're excited to bring this innovative, new offering to the category to help grillers create even more memorable experiences around the grill. Grilling is a sensory experience, and we're taking it to a new level with the real spices of these Signature Flavors. Whether you're a beginner or pro, Signature Flavors charcoal briquets, pellets and flavor boosters will level up any barbecue."
Want to know everything going on in flavor & fragrance? Sign up for P&F+'s newsletter. You can also follow along on Instagram and LinkedIn.