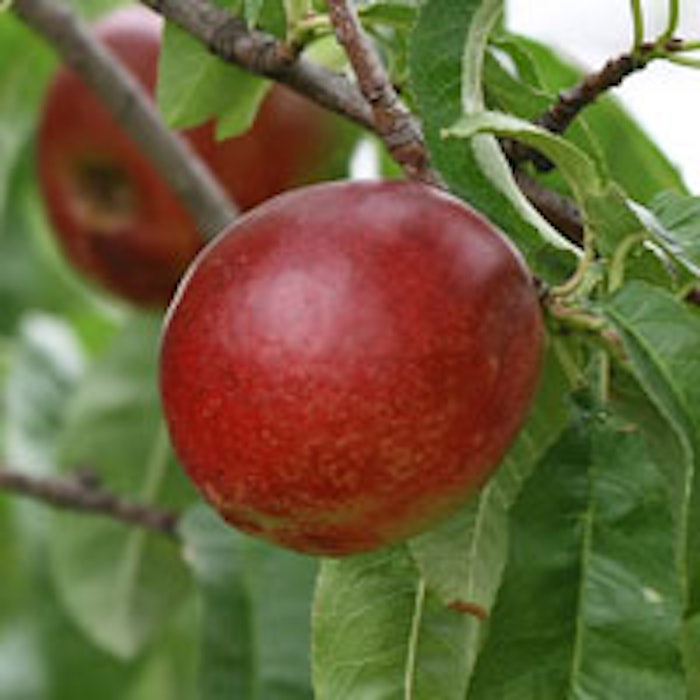 Patent Picks are chosen by the editors from publicly available sources. Today's choice is a new "Honey Spring" nectarine variety having very good, mild and sweet flavor with low acid.
"Honey Spring" nectarine tree
U.S. Patent PP25983
Publication date: Oct. 13, 2015
Inventors: G.N. Zaiger, L.M. Gardner and G.G. Zaiger
These inventors have identified a new and distinct variety of nectarine tree. The tree was grown in USDA Hardiness Zone 9, near Modesto, California, using standard commercial fruit growing practices of pruning, thinning, spraying, irrigation and fertilization.
Its novelty consists of several desirable features:
Vigorous, upright tree growth;
Regular and heavy production of large-sized fruit;
Fruit with firm, yellow flesh, good handling and shipping qualities;
Fruit with very good flavor;
Fruit with attractive red skin color;
Flesh that ripens evenly with a firm, meaty texture and few, small and tender fibers;
Flesh that is firm and comparable to most commercial varieties;
Aroma that is moderate, and where amygdalin is undetected;
Juice in moderate amount, which enhances flavor.