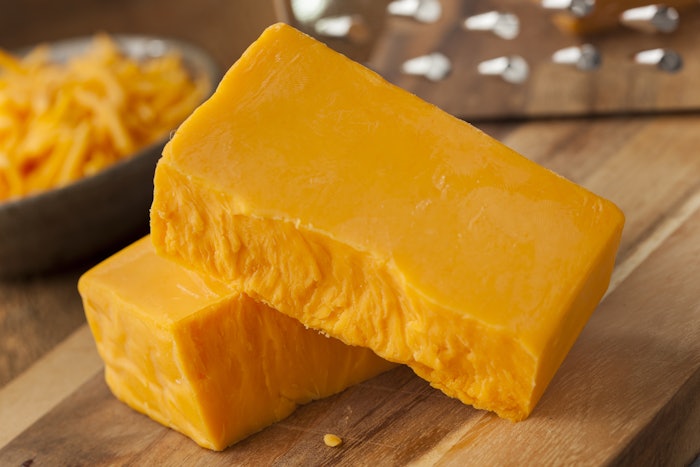 Dreamstime
International Flavors & Fragrances (IFF) has introduced the Choozit Vintage line as a way to enhance cheddar flavors.
Related: IFF Reports Q3 2022 Financial Results
The product will be available in both the US and Canada, given US consumers' predilection for cheddar. 
According to Innova Market Insights, cheddar is the top cheese-centric ingredient across the ready meals, snacks, and bakery categories making up 42%, 71%, and 53% of those launches, respectively. 
Additionally, US consumers tend to opt for cheddar, an ingredient used in nearly half of the products containing cheese in 2021. Choozit Vintage was conceptualized to address the specific challenges of cheddar by way of its cultures, which gives formulators a more reliable and stable cheese composition. 
"Choozit Vintage is an easy-to-use culture that helps manufacturers overcome undesirable flavor development such as bitterness during aging, delivering highly reliable pH and texture results throughout the ripening process," said Annie Mornet, senior global product manager for cheese at IFF. 
In addition to its benefits for cheese, Choozit Vintage also offers sustainability advantages, reducing energy use through shorter aging times and less storage at cool temperatures. It also reduces trim waste during production. IFF's phage and culture also contain more biodiversity, which equates to less waste during cheddar production.
Want to know everything going on in flavor & fragrance? Sign up for P&F+'s newsletter. You can also follow along on Instagram and LinkedIn.