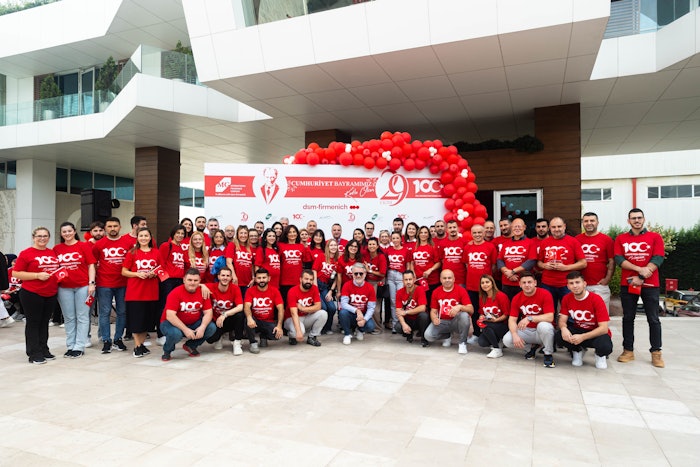 dsm-firmenich
On October 26, 2023, DSM-Firmenich Turkey event in honor of the 100th anniversary of the Republic at the MG Gebze facilities was attended by executives, employees, and the entire DSM-Firmenich teams, thanks to the DSM-Firmenich Country Leader& MG International CEO, Aslan Gulcicek, MG International COO Sibel Gulcicek and founder of MG International Misel Gulcicek.
The celebration event, which was organized with a red and white theme in line with the spirit and significance of the Republic, featured a performance by singer Ege.
The event began with a one-minute tribute to the founder of the Republic, Mustafa Kemal Atatürk, followed by a spirited rendition of the National Anthem. Approximately 450 people participated in the special 100th-anniversary celebration event. Participants also sang a special anthem composed by Ege for the 100th year of the Republic. The event was designed to convey messages of the eternal existence of the Republic and the continuity of unity and solidarity.
Trophies were presented to the Republic runners; TEV(Turkish Education Foundation) representatives presented trophies to the team of 40 MG International Republic runners, for supporting equal education of the Republic's Youth at Büyükada Half Marathon alongside TEV (Turkish Education Foundation).