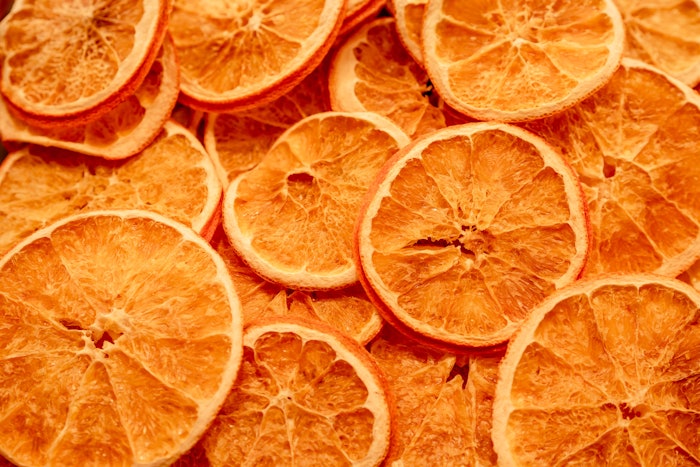 Pexels photo by Oleksandr Pidvalnyi
While the global citrus oil market is expected to reach a valuation of $8.75 billion by 2023, showing incredible growth potential, we've also seen an influx in citrus replacers.
Two of which are provided by Givaudan and IFF. More details on the ingredients below: 
Givaudan and Manus Bio have partnered on the launch of BioNootkatone, a sustainable, natural, clean-label citrus flavor ingredient that is intended to be used in a variety of food and beverages.
BioNootkatone is the result of Givaudan's analytical, flavor and processing abilities combined with the application of Manus Bio's BioAssemblyLine Cell Factory engineering platform. BioNootkatone uses a non-GMO sugar source as the starting material and is made without using any citrus ingredients.
Chief executive officer of Manus Bio, Ajikumar Parayil, Ph.D., added, "Climate effects and agricultural diseases such as citrus greening have established a clear need for natural and sustainable citrus ingredients that are not reliant on agricultural citrus extracts. The launch of BioNootkatone is a major achievement in our successful, long-standing collaboration with Givaudan."
In October 2022, IFF announced the debut of IFF Neo, a portfolio of natural flavors designed to deliver citrus taste impact without using citrus oil, or any ingredient derived from the oil. Featuring complete citrus flavors from orange, lemon, lime to grapefruit and mandarin, IFF Neo is said to offer beverage manufacturers stable supply, while reducing price volatility and environmental impact.
The IFF Neo collection of natural citrus flavors is developed for beverage applications, as well as in liquid and dry formulations. Built using proprietary materials and technologies, IFF Neo citrus flavors are highly concentrated yet entirely free of citrus-derived molecules. Labeled as natural flavors, they are readily soluble in beverage applications and are designed to have greater stability than citrus-oil derived flavors, enabling a longer shelf life.
Karel Coosemans, global leader for IFF's Re-Master Citrus innovation program, said, "We're alleviating global citrus sourcing challenges, offering our customers great-tasting, natural flavors with citrus taste that are more readily available. Our game-changing supply stability also removes the price volatility commonly seen with citrus-derived products."
You can learn more about the portfolio by tuning into IFF's video interview.