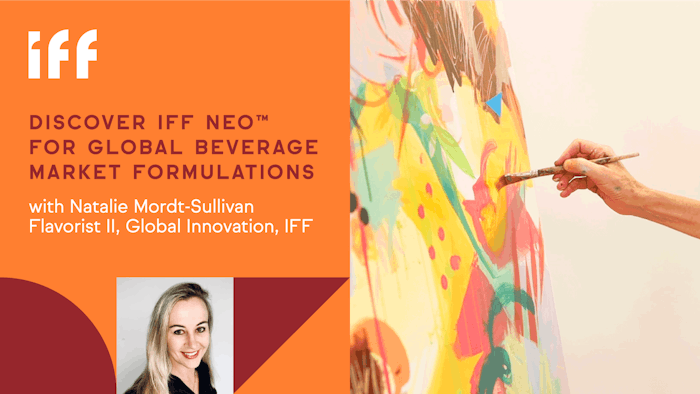 This video is sponsored by:
IFF International Flavors & Fragrances
International Flavors & Fragrances (IFF) has announced the debut of IFF NEO™, a portfolio of natural flavors designed to deliver citrus taste impact without using citrus oil, or any ingredient derived from the oil. Perfumer & Flavorist+'s managing editor, Jenna Rimensnyder, connects with IFF's  RE-MASTER CITRUS™ innovation flavorist, Natalie Mordt-Sullivan, to discuss the usage and versatility of  IFF NEO™. 
Meet Natalie Mordt-Sullivan
Natalie Mordt-Sullivan is IFF's RE-MASTER CITRUS™ innovation flavorist, based in Lakeland, Florida, in the United States. Mordt-Sullivan discovered the enchanting world of flavor creation while searching for vocational work as a student... and the rest, as they would say, is history. After graduating with a B.Sc in Food Science & Biotechnology from Stellenbosch University, Mordt-Sullivan began working for IFF in Johannesburg, South Africa.
Firstly, focusing on beverage design and then becoming a flavorist. Her insatiable curiosity with the world around simply appreciating novelty and always having a strong urge to explore, discover, and grow is what keeps her motivated and inspired each day. Natalie's passion is creating innovative flavors that are tailored to customer's needs. She spends her free time exploring beautiful and unique natural landscape with her husband and two sons. They find happiness in beautiful sunsets and exploring the world together.