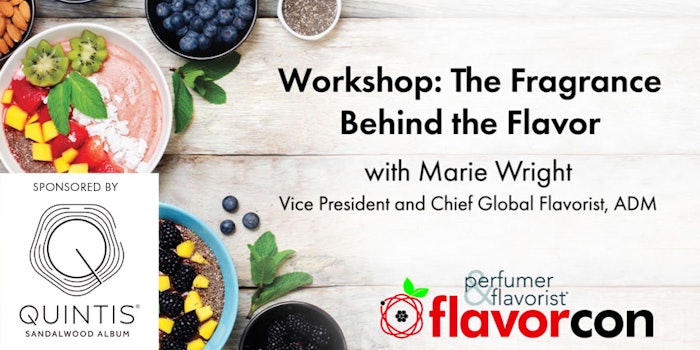 Green pear and citrus; strawberries and whipped cream; brown sugar and fig. These aren't lattes on the seasonal menu at the local coffee shop—they're just a few of the flavorful scents currently found in lotions and spritzes at fragrance retailers around the world.
Harkening back to her experiences working closely with perfumers, Marie Wright, president, creation, design and development, chief global flavorist at ADM Nutrition, notes the early aughts saw a shift from floral, woody and warm fragrances to the fruity and gourmand. "All of a sudden … everyone was interested in fragrances that were good enough to eat."
This was not a shift to emerge fully formed in the new millennium, however: flavor and fragrance have always been inexorably linked. During her Flavorcon 2019 presentation "The Fragrance Behind the Flavor," here sponsored by Quintis, Wright outlines the F&F connection, breaking down the ways in which the architecture of fragrances and flavors are similar, exploring extracts found in applications for both, and sharing examples of the myriad ways everything from cocktails to flavor of the year have been shaped by scent.