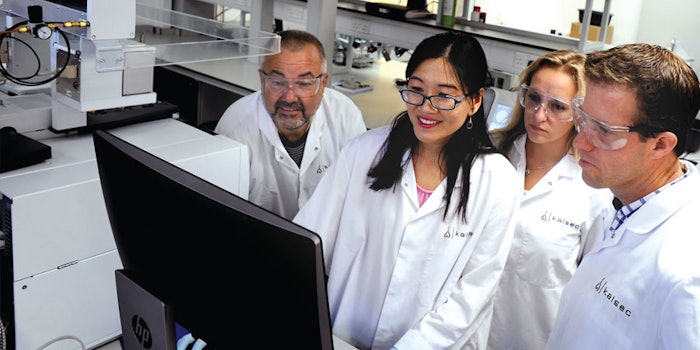 Kalsec—a natural spice and herb extract producer—made investments in its European operation with an installment of a new laboratory comprised of analytical facilities at the Mildenhall, United Kingdom location.
The new lab is supported by the expansion of the company's team with new technical experts and offers the means to support meat suppliers and processors, fats and oils producers and soup, sauce and dressings manufacturers with scientific evidence and other ideas for applications.
"Our company is known for supplying superb natural herb, spice, vegetable and hop ingredients to food and drink manufacturers," said James Smith, managing director, Kalsec Europe. "The new lab delivers benefits beyond those already offered by our products and supplies customers with scientific measures of changes in their food products over set periods of time. This means Kalsec can offer retailers scientific evidence to back up their claims about consistency, stability and, most importantly, shelf life. These results will show the positive impact of Kalsec ingredients on flavor and aroma retention – and sustaining the color and appearance of products."
The company's herbs and spices are naturally sourced and can extend the shelf life of ground beef, stabilize the color of pepperoni and provide innovative flavor profiles for sauces or marinades to include into prepared meals.
"The opportunity to increase shelf life and reduce waste while enhancing flavor and overall experience for the consumer continues to be a priority for packaged food and ready-meal manufacturers," said Smith.
"We're continuously researching and conducting trials to improve techniques for extracting natural raw materials that help stabilize a wide range of foods," he added. "Retailers and consumers get the benefit of products that consistently look, taste and smell fresh regardless of season or location. We combine our extraction capabilities and knowledge of culinary expertise to transform customer products into world class meals with ethnic or regional dimensions."
The food scientist team has the ability to recreate a range of preparation methods, such as baking, confections, soups, sauces, dressings, marinades, snacks, pickled products, meat and poultry, seasonings and beverages. The newest team members include Paul Seymour, Ph.D., technical director; Henna Lu, Ph.D., lead antioxidant scientist; and Justyna Klusek, food applications scientist.
"The laboratory gives us the capability to conduct state-of-the-art technical analysis," explained Vince Martin, European market development manager at Kalsec. "Our highly-qualified and experienced team is able to support our natural extract applications with scientific evidence of the benefits to the final product."