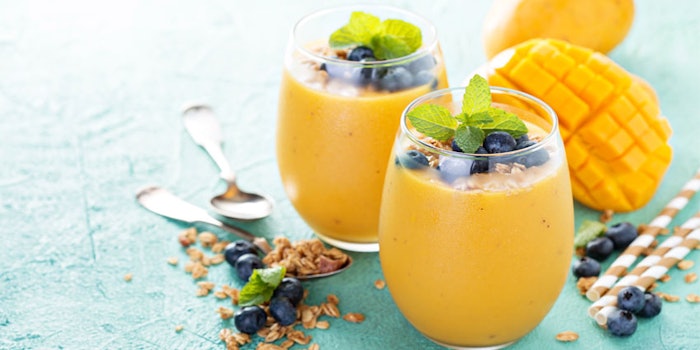 6,10-Dimethyl-5,9-undecadien-2 (synonym: geranylacetone) (FEMA# 3542, CAS# 689-67-8) is distributed widely in nature but cannot be said to dominate a single flavor profile. The character of 6,10-dimethyl-5,9-undecadien-2 is mild and rather heavy. It has a soft, fruity note quite reminiscent of pear, coupled with a deep rose petal background. This odor combination is unusual for such a large and heat-stable molecule. The soft and unassuming character allows it to play a useful role building the foundations of an extraordinarily wide range of different flavors.
Note that the dose rates given throughout this article are the levels suggested for use in flavors intended to be dosed at 0.05% in ready-to-drink beverages or in a simple bouillon.
Berry Flavors
Blackberry: A moderate addition of 6,10-dimethyl-5,9-undecadien-2, in the region of 100 ppm, blends nicely into the profile of blackberry flavors.
Blackcurrant: Lower levels, around 30 ppm, are effective in authentic-style blackcurrant flavors.
Blueberry: The combination of fruit and floral notes is tailor-made for blueberry flavors. Levels of 500 ppm and up work very well.
Cranberry: 6,10-Dimethyl-5,9-undecadien-2 is also very compatible with cranberry flavors. The profile blends very well with 2-methyl butyric acid, adding depth and realism.
Raspberry: Levels of 150 ppm of 6,10-dimethyl-5,9-undecadien-2 adds an attractive, soft, fruity background note to all styles of raspberry flavors.
Strawberry: The role of this ingredient in strawberry flavors is more modest, but 50 ppm adds depth and complexity.
For the full article, please check out the Perfumer & Flavorist+ June 2021 issue.