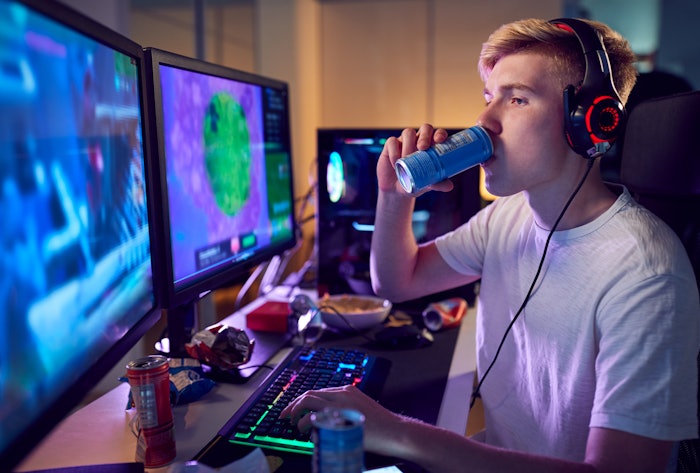 AdobeStock
The past few years have fundamentally shifted our relationship with food and beverages.
While it's obvious that COVID-19 played a major role in changing consumer habits, its impact on the food and beverage market did not end when the pandemic concluded. As consumers return to active lifestyles and traditional work routines, they find themselves faced with economic uncertainty in the form of inflation, stagnant wage growth, and intermittent supply chain disruptions. Consumers are trying to do more with less, and as a result, they are seeking more value from food and beverage products in the form of functional ingredients, health benefits and performance claims. No sector is experiencing this shift more than energy drinks, which has grown over the years from a niche category to a mainstream player in RTD beverages. With immense category growth and surging consumer demand for functional ingredients and BFY formulations, the role of flavor in energy drinks is becoming a critical factor in new product trial and repeat purchase.
Growing the Energy Drink Market by $10 Billion in Five Years
The energy drink market has experienced remarkable growth in recent years. According to Mintel researcha, the U.S. market for energy drinks has surged by 71% since 2017, reaching a total of $23 billion in 2022 U.S. sales. Even more, the category is projected to grow extensively in the next five yearsb, reaching $33.2 billion by 2028, growing at a CAGR of 7.63% during this period. This growth can be attributed to various factors, including the pandemic, generational changes, growth of the non-alcoholic beverage industry and more. As consumers seek new ways to power-up, they are venturing beyond traditional options like coffee and tea in order to explore a diverse array of energizing RTD beverages packed with functional ingredients that go beyond caffeine, taurine and guarana.
The Broadening Role of Energy Drinks
The biggest challenge for the energy drink category is showing that there is more to these RTD beverages than sugar and caffeine content – including unexpectedly healthy options. Today, the energy drink category includes a broad variety of beverages that offer new and exciting ways to keep energized – embracing innovation through unique flavors and targeted functionality, such as improved cognitive function, stress relief or boosted immunity. Unpredictably, the energy drink category is even challenging sports beverages and waters in enhancing hydration.
Energy drinks are no longer just a source of quick energy, they aim to address specific consumer needs and cater to a wider audience seeking holistic well-being.
A blossoming trend in recent years is energy drink products specifically targeted towards the gaming community. With the immense growth of online gaming and esports, beverage brands recognized an untapped opportunity to cater to the unique needs and demands of gamers. These specialized energy drinks include functional ingredients like ginseng, nootropics and ginkgo biloba to enhance focus, reaction time and stamina, while quickly gaining popularity among the gaming community. The gaming industry's notorious intensity is perfectly suited for energy drinks, plus the category relies on equally intense flavor formulations to gain market share and appeal to this consumer base. This segment of the energy drink category is poised for growth, due to the mass appeal of video games among younger consumers. More than 94% of U.S. teens aged 10-17 play video games, and playing video games is the top after-school leisure activityc among males aged 10-17.
Surprisingly, energy drinks have even found a place as an alcoholic beverage alternative, particularly for the "sober curious" consumer – a segment that grew dramatically during the pandemic. These consumers are a highly health-conscious group interested in premium, unique beverages – indicating an opportunity for BFY energy drinks with unique flavor profiles. Energy drinks have become an appealing option for this demographic, offering a stimulating and enjoyable beverage without the effects of alcohol. The diversity of flavors, functional ingredients, and targeted benefits found in energy drinks allow the sober curious consumer to explore exciting and refreshing options that align with their desired lifestyle.
Formulating Flavors for Functionality
The energy drink market is fundamentally fueled by compelling and exciting flavors. The role of the flavor industry is growing to meet consumer demand for authentic, true-to-nature flavors, unexpected ingredient combinations and thrilling taste experiences. The importance of flavor in driving product trial and repeat purchase cannot be understated, it is a critical aspect of nearly every food and beverage category, and the complexity of balancing functional ingredients in energy drinks makes formulating flavors for this category even more challenging. To meet this challenge, the flavor industry has introduced innovative technologies like flavor modifiers and enhancers, aimed at amplifying taste characteristics as well as enhancing the mouthfeel, even improving the kokumi (Japanese for "rich taste") sensation. These advancements enable the development of natural energy drinks that are both delicious and minimize sugar content. The energy drink category also leverages the positive perception associated with fruit flavors, capitalizing on the "health halo" of fruit ingredients. As demand rises for fruit flavors and natural ingredients, the flavor industry is leveraging technologies that produce authentic-tasting beverages that are true to nature's essence. This strategy drives innovation that enhances and highlights the natural flavors in energy drinks, offering consumers refreshing and authentic taste profiles.
Evolving the Energy Drink Consumer
While consumer demand for more versatile, flavorful energy drinks continues to evolve, so do the consumers themselves. Energy drink demographics are shifting as Gen Z and even younger Gen Alpha consumers age into the market, and opportunities abound to serve-up what these consumers already want. According to Mintel1, Gen Z's high RTD coffee consumption indicates a need to aggressively target younger consumers and develop energy drinks that speak to their unique energy needs and interests. Aging millennials – once the prime demographic for traditional energy drinks – have distinct health and wellness goals. Millennials are now looking for BFY energy drink options made with natural ingredients, lower caffeine content or other health-minded formulations. The opportunity for organic growth of the energy drink market increases with younger consumers. Mintel research shows that only 17% of Gen X and older consumers consumed a traditional energy drink in the past three months, compared to over half of Gen Z consumers in the United States.
The market for energy drinks is also shifting between male and female consumers. In the past, energy drinks were primarily consumed by men, but now women are making up a larger share of the market. According to Mintel research 83% of women aged 18-34 have consumed an energy drink in the past three months and the market continues to grow, based on engagement from younger female consumers. There is also an overlap between the energy drink market and the ready-to-drink (RTD) coffee market. According to Mintel research, Gen Z's and millennials' love for energy drinks and RTD coffee creates the perfect positioning of an energy drink as a convenient, portable perk-up. Energy drinks that are marketed as "coffee alternatives" are becoming increasingly popular, and many energy drink companies are now offering RTD coffee formulations.
Energy Drink or Sports Nutrition Beverage?
As consumer need for a convenient, portable 'buzz' evolves, the lines are blurred between energy drinks and sports nutrition products. This is due to several factors, including the growing demand for healthier and more natural energy drinks, the increasing popularity of pre-workout and post-workout supplements, and the rise of gamer culture. According to Mintel research, nearly half of all U.S. energy drink consumers are interested in energy drinks that contain electrolytes. This represents a major shift in consumer perception about energy drinks as a source of hydration. Brands should explore flavors that are traditionally associated with hydration, such as fruit. These products can appeal to energy drink consumers but also represent a hybrid with sports nutrition beverages, tapping into a completely different market.
The aforementioned rise of gamer culture and eSports are also redefining sports nutrition beverages to include attributes that have traditionally been ascribed to energy drinks. The energy drink category's inherent focus on mental clarity, alertness and performance is ideal to position energy drinks as a sports nutrition option. Gamers are a large and growing demographic, and they are often looking for energy drinks that can help them stay focused during long sessions. While new product introductions are growing in this niche segment, major opportunities exist to formulate energy drink flavors that resonate with gamers and deliver functionality and great taste.
Fueling the Future
It's an exciting time for the energy drink market. Immense consumer interest in energy drink products and a willingness to try new flavors is proving that demand will continue growing for innovative energy drink products that deliver tangible benefits and value. But brands cannot overlook the importance of flavor in growing this market. The success of new energy drink products will hinge on leveraging the technical advancements of the flavor industry to keep the category interesting, encourage trial and drive sales. 
a Mintel, Energy Drinks, US, 2023.
b Mordor Intelligence, United States Energy Drink Market Size & Share Analysis – Growth Trends & Forecasts (2023-2028), US, 2023.
c Mintel, Teen & Team Gaming, US, 2022.