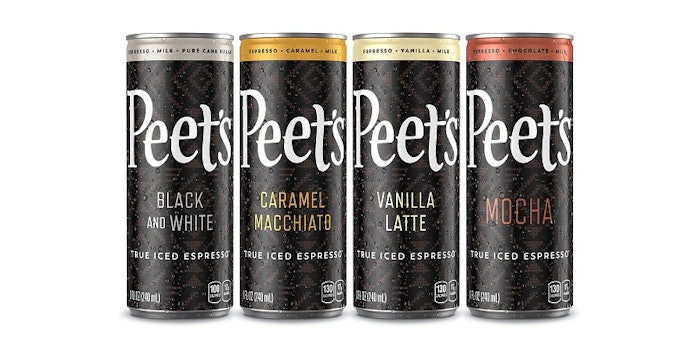 Peet's Coffee has debuted Peet's True Iced Espresso, a line of shelf-stable RTD beverages based on the brands coffee flavors.
Created with natural flavors, the beverage line features a dark roast single-origin Colombian espresso and is available in either mocha, caramel macchiato, vanilla latte and black and white flavors. The new line joins the existing portfolio of branded RTD beverages created by Coldcraft.
"After the success of bottling our signature cold brew, we are excited to introduce a premium RTD iced espresso that can be enjoyed anywhere. It was not easy to craft a canned shelf-stable coffee that is worthy of Alfred Peet's name," said Gretchen Koch, director of marketing and innovation of Coldcraft, Peet's Coffee. "We focused on sourcing high-quality, clean ingredients and fine-tuning the production method to ensure a creamy coffee experience on par with the iced espresso beverages handcrafted by Peet's baristas."