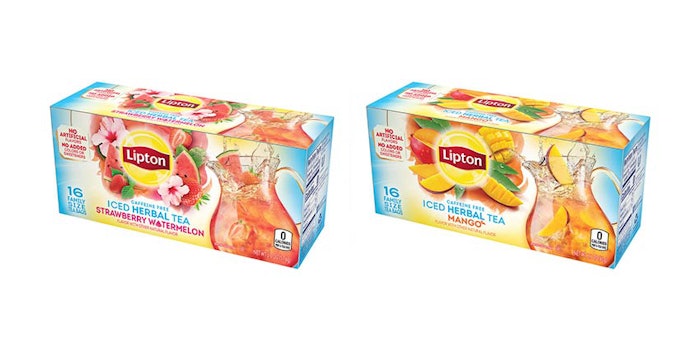 Lipton has unveiled two new tea flavors for summer:
Strawberry Watermelon Iced Herbal Tea features strawberry and melon flavors blended with mild sweet chamomile and tart hibiscus.
Mango Iced Herbal Tea brings together mango with rosehips, sweet chamomile, licorice root and lemongrass with a "touch" of zesty orange peel
The teas are crafted without added sweeteners, artificial flavors or colors, or caffeine. They are available in 16-count boxes of iced herbal tea bags.
"We know families are looking for delicious alternatives to water that are healthy and families will enjoy," said George Hamilton, tea director at Unilever. "Our new Lipton Iced Herbal Teas are just as hydrating as water, but pack much more flavor. They're the perfect addition to any summertime family meal, from BBQs to picnics."