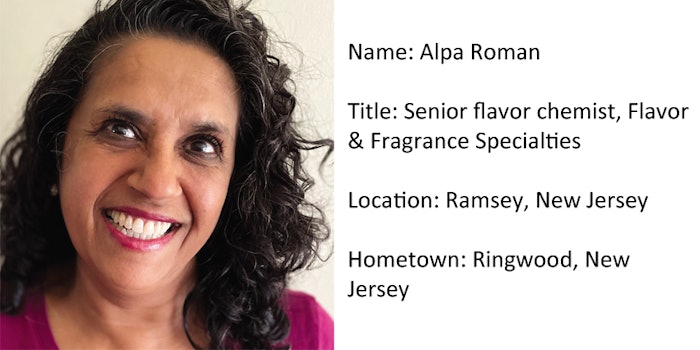 Perfumer & Flavorist+ [P&F+]: What led you to the flavor industry?
Alpa Roman [AR]: I sort of fell into this industry. I had never heard of the flavor world until I started working as a secretary at Ungerer. I loved going in the labs and smelling and tasting all the products that the lab was working on. I had the opportunity to work as a technician and I grabbed that opportunity. After 15 years or so, I had the opportunity to train as a flavorist at Flavor & Fragrance Specialties. I am very thankful for this. Never in a million years would I have thought that I would get to create the flavors that would go into the market. It is so exciting to see the flavors that you work on turn up on supermarket shelves.
P&F+: What applications do you primarily formulate for?
AR: I consider myself a general flavorist, however, I have been mostly working on bakery, pharmaceutical and oral care products recently. I truly enjoy them all and they are very different and challenging to create. You are always learning when you formulate flavors for different applications.
P&F+: Describe yourself in three ingredients.
AR: The first would be vanillin. I describe myself as hardworking and dependable. The same could be said for vanillin. It is found in so many flavors and always tastes great.
The second ingredient would be capsicum. Like capsicum, I can be very fiery about things I am passionate about. I also happen to love spicy foods.
The third would be leaf alcohol. It reminds me of spring and freshness, which makes me think that there is always something new to learn.
P&F+: Do you have advice for people coming into the flavor field?
AR: Be patient and learn all you can. The more open you are to learning, the more successful you will be. If you have the passion, you can really enjoy the world of flavors and be successful. Furthermore, if you really enjoy this industry, I encourage you to attend meetings and get involved in all the organizations that are out there. Read and stay current, since this industry is always changing. When you are compounding a flavor, always smell and taste all the ingredients that you are putting into the formula. Last but not least, always be able to take constructive criticism and learn from it.
P&F+: What is the best part of your job?
AR: The creativity my position offers and to work with the greatest people in the industry. I enjoy working with our team and customers to get products out on the shelves. I love to come up with new concepts and create flavors. I love a good challenge and finding solutions when there are issues with a product. There is nothing better than seeing all the hard work that goes into a product and having it be successful.
P&F+: Are the types of projects you're working on changing over time? How are the creative demands of the job evolving?
AR: Projects are always evolving due to the landscape of regulations. I think we are creating flavors to meet regulatory requirements first and foremost, with taste being secondary. As trends and products change, the types of flavors we create are evolving to meet these new needs.
For the full article, please check out the Perfumer & Flavorist+ August 2022 issue.